AIR Avionics

AIR Glide (formerly Butterfly) - A new 'take' on soaring avionics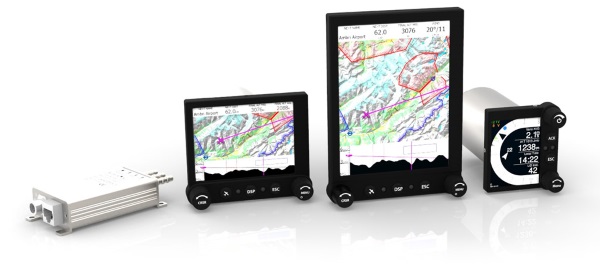 AIR Glide is a flexible product line of soaring instruments that combines variometer, navigation, traffic avoidance, AHRS and flight logging into one system. With the introduction of the "Butterfly Vario" back in 2011, Butterfly Avionics - one of the two partner companies in the new AIR Avionics group - marked the foundation for AIR Glide. The "Butterfly Vario" has now become part of AIR Glide.
With AIR Glide there is no longer a distinction between "variometer" and "glide computer". The heart of every AIR Glide installation, the sensor unit, contains all sensors as well as an IGC certified flight recorder. The Sensor Unit can be combined with any number of displays of any available size.
The original vario display ("Display S") with its revolutionary sensor technology is now augmented by two larger display sizes "Display M" and "Display L" with 90mm and 140 mm screen size respectively to give easy-to-use full function navigation with sophisticated competition functions. All three display units are designed to function with data supplied by the AIR Glide Sensor Unit.
The primary goal when developing the new AIR Glide software for Display M and L was to make it intuitive and and easy to use.
The system relies on multiple sensor fusion combined with 4 pressure sensors, 3 accelerometers, 3 rate-gyros, a 3D-compass and a high resolution GPS. As a result AHRS is a standard feature.
The flexibility of the proprietarily developed AIR Glide software allows the depiction of all system functions on all available displays. This means that pilots can use one or two or even more displays in one aircraft, as required.
Displays S and M are direct drop-in replacements for older systems and use 57mm or 80mm standard panel cutouts.
Air Glide: possibly the best solution for many pilots
So what do you need to make it all work ?
The minimum you need is Display S (the vario) plus the Sensor Box
---
Showing 1 to 4 of 4 (1 Pages)