Mountain High Portable Emergency Oxygen System (EOS)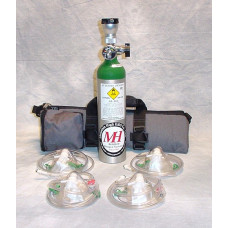 Portable Emergency Oxygen Systems, allow you to have a minimum of 10 minutes of oxygen per person, the needed amount of oxygen time for emergency descents starting at 25,000 ft. in the event of a cabin de-pressurization as defined by the FAA.
To operate, simply don the masks and turn on the main cylinder valve. Oxygen will flow only if a mask is connected. A positive flow indicator on each mask shows oxygen is being delivered.
Description (EOS) Portable Emergency Oxygen System 4-place system with AL-180 (6 cu.ft.) aluminum cylinder, XCP-4P regulator, 4 ea. EOS non-accumulating, non-rebreathing face masks with flow orifices and oxygen flow indicators. A padded Gore-Tex Full-Pack cylinder holster harness is included for strapping to a seat-back or other suitable surface.