AIR BATT Powercharger 9641 Battery 12 V 2,7 A - LiFePO4 without Connector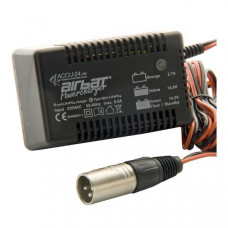 The AIRBATT Powercharger series includes chargers that are built using primary clocked technology. Unlike conventional chargers with a high alternating current, the AIRBATT Powercharger series has an absolutely constant DC current, which makes the battery charging more even, more efficient and faster.
After a full charge, the battery can remain connected to the charger. When the charger is switched off, a return current of 0.12 mA is negligible. Despite this, it is recommended that the charger be removed from the battery during extended periods of non-use (during the Winter) as this will enhance the battery life.
Maintenance-free valve-regulated lead-acid batteries (VRLA) should always be fully charged, as this will extend battery life.
Features: Short circuit proof, current limiter, overvoltage protection, charge control indicator.
3-stage charger for the correct charging of lead gel, non-woven or LiFePO4 batteries.
Reverse polarity protected, handy construction, clear displays, short circuit proof; special Dryfit, Absorbent Glass Mat (AGM) and lithium iron phosphate (LiFePO4) charging curve
Characteristic: IUoU (DIN-designation (DIN 41773) (changeover to maintenance charge after 4 hours)
Security: EN 60335
EMC on the network side meets: EN 61000
Mains voltage: 230 - 110 VAC 50-60 Hz 0.5A
Features: Dimensions: L x W x H = 100 x 60 x 48 mm
Weight: 0.3 kg