Mountain High XCP Portable O2 System Single Place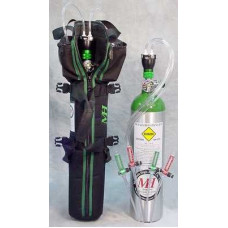 The MH-XCP Constant Flow series is Mountain High`s most economical single and multi-place portable oxygen system for general aviation. Weight is kept to a minimum by the low profile, light weight regulators, MH-3 or MH-4 Flow-meters and Cylinders. The XCP systems come complete with Cylinder (of your choice), Regulator, Mountain High MH-3 or MH-4 Flow-meter, Oxymizer™ cannula, facemask, tote bag and cylinder carry case for easy transport and seat back mounting.
The XCP System can be used up to 25,000 ft. with the MH-4 Flow-meter and Facemask. Choose the MH-3 Flow-meter for flights up to 18,000 ft.
Each XCP System Includes:
* Instructions
* Cylinder with Valve, Gauge and carry case.
* Pressure reducing Regulator with self-sealing outlet.
For Each User
* MH3 or MH4 Flow-Meter (Your choice when ordering)
* Oxymizer (oxygen conserving) Cannula.
* Facemask
* Tote-Bag
You can add an additional XCP station at any time. In addition, you can add the EDS O2D1 or the 2-place O2D2 to your XCP system as well. You can use your MH-3 and MH-4 Flow-meter on other outlets for those occasional extra passengers.
Ordering Information: The suffix of -X1, -X2, -X4 or -X6 with the item number indicates the number of stations desired.
The suffix -3X or -4X indicates the MH-3 or MH-4 Flow-meter. i.e. -32 would be an MH-3 flow-meter with two stations.