Becker BXP6401-2-(01) 150W Mode S Transponder (Class 2 – below 15,000ft)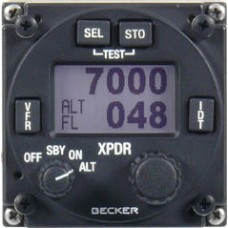 This is a single box system that fits in a 57mm panel cut-out. The Mode-S ICAO address is stored in a separate address module AM 6400-1-(01) which is included with each unit. The unit requires a separate alticoder which does not have to be from Becker. (A Becker alticoder is available part number BE6400-01-(01) alticoder for £195.00 excl VAT if purchased with the transponder). Becker do not include connectors and these are extras.
Principle Features:
Based on proven ultra-compact and robust equipment technology, outstanding performance and low power-consumption. Utilizing an external address-module for air-craft data. This unique solution prevents programming errors and offers advantages in case of maintenance.
Transmit power

≥

150 Watt
VFR/IFR operation up to 50,000 feet.
Standard input for parallel Blind-Encoder
Supplementary serial input for Becker Blind-Encoder
RS 422/RS 232 interface for ADSB-capability in combination with suitable data-source
Supply voltage 14 to 33V DC
Software certified to DO178 B Level C
Operating temperature - 20°C to + 55°C (short-time +70°C)
Additional Benefits: directly exchangeable with ATC4401 (same dimensions and connectors), worldwide Net of licensed Becker-Service-Points.