iris all-in-one 57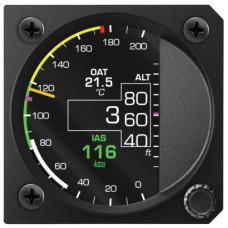 Digital all-in-one unit combining all the basic flight instruments.
Manufactured by LX Navigation
The iris all-in-one 57 is a 57 mm standalone unit, all-in-one, ASI + ALT + VSI with a backup battery, Incl. OAT sensor.
It can power a slave unit for two-seater aircraft.
This is a totally new system developed from the Salus (which has LAA approval) and is a solid-state flight system that runs off a standard 9 - 30 volt DC system and comes with an internal back-up battery, giving a nominal 3 hours of use.
The iris can be edited with CAN2WIFI - (which is a simple module through which you can connect and adjust IAS colour ranges, font sizes, screen colours etc.) But iris can, of course, be purchased already configured.
Functions
Indicated airspeed
Ground speed (optional)
True airspeed
Altitude
Flight level
Current QNH
Vertical speed
Density altitude
Outside air temperature
Power and battery
Power supply: 9 – 30 V DC
Power consumption: 150 mA @ 12 V DC / 100 mA @ 24V DC
Battery: Built-in battery (3 hours)
What's in the box?
iris device
power supply connector
M4 x 6 screws
CAN BUS cable
GPS Antenna (optional)
OAT sensor (optional)
Connectivity
pressure input(s)
RJ 45 CAN port
RJ12 OAT port
SMA connector for GPS (optional)
power supply connector
Processor and memory
LX one chip
Warranty and Service: Your iris device comes with technical support and a two-year limited warranty.