iris all-in-one 57 Slave Instrument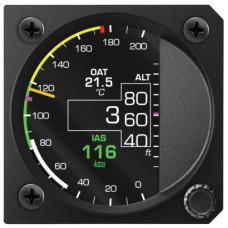 The iris all-in-one 57 Slave Instrument is a 57 mm slave unit for the rear seat of aircraft and is powered by the iris all-in-one, displaying ASI + ALT + VSI with a backup battery, incl. OAT sensor.
Functions
Indicated airspeed
Ground speed (optional)
True airspeed
Altitude
Flight level
Current QNH
Vertical speed
Density altitude
Outside air temperature
Power and battery
Power supply: 9 – 30 V DC
Power consumption: 150 mA @ 12 V DC / 100 mA @ 24V DC
Battery: Built-in battery (3 hours)
Processor and memory
LX one chip
Warranty and Service: Your iris device comes with technical support and a two-year limited warranty.