IMI Wing Wheel BASIC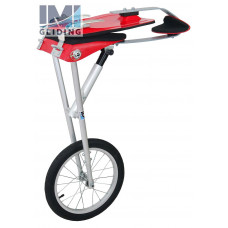 This replaces the earlier IMI model which used a GRP suspension system and is a normal fork with strut suspension using 2 rubber shock absorbers which are responsive and yet strong enough to act as a wing stand when filling with water ballast The device is foldable or the fork can be removed by disconnecting just one pin. The weight is 8.5 kg.
Wing Wheel: Your wing wheel will be adjusted to the glider type prior to shipment.
Price: INCLUDING DELIVERY FROM THE CZECH REPUBLIC (prices of the single and two-seater versions are identical).
When ordering, please send us an email giving the glider type - info@lxavionics.co.uk