Garmin Aera 660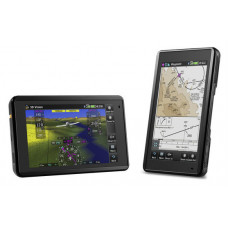 Advanced Capabilities in a Portable Package
· Rugged, purpose-built portable navigator with built-inGPS/GLONASS receiver and 5-inch sunlight-readable screen
· Intuitive, simple touchscreen operation and single power buttonmake getting around the display a cinch
· 3D Vision perspective view shows terrain, obstacles, airportenvironment, optional traffic, nearest airport and more
Awareness in Your Hand
The aera 660 aviation portable puts the latest Garmin technologyin the palm of your hand, and it carries on the Garmin tradition of creatinginnovative navigation support devices that go back to the beginning of handheldaviation GPS. While aera 660 is light, compact and fits in any flight bag, it'salso packed with capabilities. As a dedicated navigator, it quickly andreliably acquires GPS and GLONASS satellite constellations and combinesadvanced navigation tools with rich, interactive, dynamically drawn aviation maps.And it displays it all on a bright, sunlight-readable 5-inch diagonalcapacitive touchscreen display.
The icons on the aera 660 are instantly familiar to anyone who'sused a Garmin GTN™touchscreen GPS/NAV/COMM, G5000® integrated flight deck or even the Garmin Pilot™ app,and the intuitive interface allows you quickly to pan across the map screen,pinch to zoom and more. Meanwhile, the power button on the top accesses quicksettings, including portrait or landscape orientation, volume and brightness.And aera 660 comes with a snap-in style powered mount for easy transportationbetween your aircraft and home.
Complete Flight Mapping
The graphical Terrain page offers both overhead and verticalprofile views of the topography beneath you. Switch to IFR map mode to displayand navigate on high or low enroute airways, and use your touchscreen mapcursor to reference Minimum Altitudes and distances between intersections. Theaera 660 even provides vertical navigation (VNAV) guidance to simplify en-routetransitions.
Garmin Smart Airspace™ guidance conveniently highlights theairspace nearest your current altitude and de-emphasizes non-pertinent airspaceso you can quickly identify your location relative to the airspace around you.And, of course, the aera 660 includes Garmin`s signature direct-to andnearest-airport navigation.
Connect With Your Panel
With an optional power/data cable (sold separately), the aera660 connects with your Garmin avionics to accept flight plans from your GTN750/650 and GNS 530W/430W navigators, as well as upload frequencies to thestandby position of your GTR 200 Comm radio, GTR 225 Comm radio or GNC 255NAV/COMM radio. It also provides your Garmin NAV/COMM radios with the GPSposition source required to look up nearest frequencies.
ADS-B Without Wires
Using Bluetooth® connectivity via Garmin Connext technology,the aera 660 easily interfaces with compatible devices to cut the clutter inyour cockpit and improve your flying experience. It allows wireless control of Garmin VIRB® action cameras to startand stop recording and capture photos.
Get 3D Perspective
The 3D Vision page within the

aera 660

uses a worldwide terrain database to create a rich, 3D representation of risingterrain near the aircraft, while overlaying GPS-derived airspeed, altitude andvertical speed alongside flight plan information. 3D Vision also displayslateral and vertical (VNAV) deviation bars and includes a 360-degree HSI, whichdisplays course deviation, track, bearing and more.





Bearing pointers can be manually configured to identify the nearest airport,complete with distance information. When connected to the GTX 345, GDL 39 3D or Flight Stream, the 3D Vision presentation is further enhanced with the displayof pitch, roll and slip-skid information. A pilot-selectable presentation optionally displays flight instruments in round gauges or tapes overlaid on the3D topographic landscape
Databases
For pilots in Europe, the Atlantic version of the aera 660includes the new Enhanced Basemap, which provides VFR operators with morevisual landmarks and intersections that are often used when contacting airtraffic control. Additionally, when selecting a street or intersection on themoving map of the aera, street names populate so it's easier to identifyaircraft location while navigating over an urban or unfamiliar environment.Operators may also incorporate City Navigator® NT street maps to enable addresslook-up functions within the aera to easily navigate to street intersectionsduring off-airport operations.

KeyFeatures
• Size and weight: 5.5"W x 3.4"H x .8"D (14.1 x 8.7x 2.1 cm):245 g with battery; 205 g without battery
• Display 4.35"W x 2.61"H (11.1 x 6.6 cm); 5.08" diag (12.9cm)
• Resolution: 480 x 800; portrait and landscape orientation
• Display type: touchscreen WVGA colour TFT with white backlight
• Battery: removable, rechargeable lithium-ion
• Battery life: Up to 4 hours during most daytime conditions, (80%backlight) and wireless connectivity in the cockpit,
...................... e.g. GTX345; up to 6 hours during typical night-time conditions, (5% backlight) and without wireless connectivity.
• GPS receiver: high-sensitivity with WAAS position accuracy
• Voltage: 10-35 VDC
• VFR use
• Can it support Traffic Information Services (TIS) alerts? yes
• Does it accept data cards: yes (microSD™ cards)
With the aera 660, you can update databases via Wi-Fi instead of connecting to a computer.