LX NAV S7 Rear Seat Repeater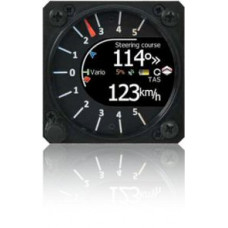 Version: LX NAV S7 57mm rear seat repeater for S7.
The LXNAV S7 is a standalone digital speed-to-fly variometer and final glide calculator with GPS input and PDA/PNA input/output and has proved to be highly popular.
Latest firmware is 4.97.
Mechanical needle driven by stepper motor allows fast response and very accurate vertical speed indication
A two-inch 320x240 sunshine readable screen displays user adjustable parameters
An integrated rotary switch with push button is used to setup all the parameters
Integrated g-meter
Flarm clock screen with acoustic warning (when connected to a Flarm device)
Integrated logbook
A second indicator with rotary switch and push button can be connected to V7 for double-seated aircraft.
Latest Firmware is 4.97:
Implementation for flarm dataport spec. ver.6 (undirected warnings A/C mode)
Implemented Flarm status indication
added polar for Silent 2 Targa and JS1-21m
support for OUDIE version 6.0 or higher
compatibility with CAN to PDA version 0.99 or higher
some minor bug fixes
Features:
Extremely bright 2" (5 cm) colour display - readable in all sunlight conditions with adjustable backlight
Rotary switch with push button is used to setup all the parameters
GPS input with two way communication in standard IGC form (RJ45 connector) eg Nano, Flarm etc
PDA input with two way communication and 5V power supply for PDA/PNA
Integrated g-meter
100Hz sampling rate for very fast response
TE compensation can be selected to use either pneumatic TE probe or electronic compensation
Pre-loaded polar database for almost all gliders
Integrated logbook
Flarm clock screen with acoustic warning when connected to a FLARM device
Much additional information can be displayed - such as average, thermal vario, netto, time, speed
Many custom audio settings
Speed to fly indication
Several useful variometer readings can all be displayed on the same vario scale: Instantaneous Vario (outer red pointer), Average Vario (red diamond), MacCready Setting (Blue arrowhead), Thermal Average (Green "T") making it easy to compare the achieved average and thermal climb rates with the MacCready setting.
Size and Weight:
Standard 57mm (

2¼") hole

Outline dimensions: 61x61x95mm (not including the connector)
Weight 330g
Colour Display:
65335 colours
2" (5cm) screen
320 by 240 pixel resolution
Input and Output:
Rotary knob with push function for Mc,Bal,Bugs and other settings
Audio output
Serial RS232 input/output
Power Supply:
Power input 10-16 V D
Input current : LXNAV S7 at 12 V:

120 mA - minimum brightness without audio.
180 mA - maximum brightness without audio

Input current :LXNAV S7D at 12 V

90 mA - maximum brightness.
Optional Accessories: (please see the LX NAV Vario Accessories section)
LXNAV S7D rear seat device £385.00 excl VAT; £462.00 incl VAT
LXNAV Nano
Oudie
Supplied with one cable (for GPS or PNA (Oudie); additional cables can be found in the LX NAV Vario Accessories section.
The S7 is ideal for Club use as the V7 can be installed and provided with a cable (CC-NP-OUDIE2) so that individual pilots can connect their own Oudies to the system to get full functionality.
Please note that S7 has been fully tested with Oudie and See You Mobile program; other programs and devices may not provide full functionality.