Butterfly Variometer Additional Display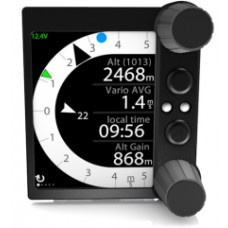 Starting with the Butterfly Vario, Butterfly Avionics of Germany launches a whole new range of gliding products. Butterfly Vario combines basic navigation, Butterfly display functionality as well as many other features with a new technology variometer, based on current research projects and latest sensor technology. It communicates with moving-map solutions and can be easily integrated into existing cockpit layouts.
With a combination of 14 sensors, the relative air-mass movement around the aircraft is measured in real time. This means big progress compared to normal variometers that only use pressure sensors to sense aircraft/airmass movement. Independent of flight direction the pilot sees real time air-mass and wind data updated repeatedly every second. In many flight-tests during 2011 using pre-production devices the potential of this new technology was established.
A new design concept integrates a device with big 2.7" display into a small 57mm standard instrument cutout. The perfectly readable display features a contrast ratio similar to printed paper. It is readable in any lighting condition and supersedes mechanical pointers.
Display and sensor unit are separate devices. All devices are connected via a standardized bus-system with robust cables (CANaerospace). (CANaeropsace is e.g. also used in Airbus A380 and Boeing 787 aircraft.) Other display units, e.g. in two-seaters can be easily added. Future Butterfly devices will also use this standard.
Variometer and speed command with live-airmass-info | live-wind | Butterfly FLARM® Display| artificial horizon | navigation with airport database | final-glide calculator with polars, bugs and ballast | tactical voice output | IGC-Logger | exact compass - no calibration required | battery management for 2 batteries | audio-mixing with support of 2 speakers | gear- and flap-sensors | interfaces for FLARM®, PDAs and iGlide.