Dynon EFIS-D6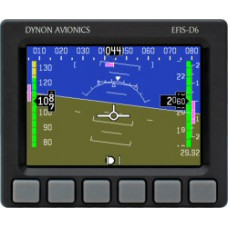 Because some like to keep it simple, Dynon offers this basic, even more affordable Electronic Flight Information System (EFIS). Perfect for pilots who want to save panel weight, space, and installation time compared to a conventional analogue gauges.The EFIS-D6 fits into a standard 3-1/8" panel hole, making it an ideal candidate for replacing vacuum and electric attitude indicators. Key safety features include Dynon's optional Angle-of Attack/ Pitot design that alerts pilots of potential stall conditions and an optional Li-ion backup battery which will keep the instrument running for 2 hours in the event of a power bus failure.
Advanced ADAHRS:
Dynon's advanced ADAHRS (Air Data, Attitude and Heading Reference System) integrates over a dozen solid-state sensors that deliver exceptional performance and reliability. With the exception of the remote compass, the ADAHRS is built inside the EFIS-D6 instrument housing, saving installation time and space. Each ADAHRS undergoes a rigorous calibration regime at the factory to ensure accuracy over its full operating range. Unlike mechanical gyros, Dynon's rugged design is tolerant to aggressive flight manoeuvres, automatically corrects itself anytime its gyros' capabilities are exceeded and cannot be damaged by aerobatics or unusual attitudes.
Reliable Operation:
Dynon's EFIS-D6 utilizes an embedded, multi-processor design that delivers real-time performance and stability. This purpose-built design is unencumbered by burdensome operating systems that typically slow down performance and require long boot times. Dynon's software design enables complete control to maximize execution speed and deliver robust reliability. A hallmark of the EFIS-D6's performance and a great safety feature is its ability to display the correct attitude within a few seconds of being powered on while in flight.
Safety Features:
A key safety feature available from Dynon is its optional AOA/Pitot design that combines Angle-of Attack (AOA) and Airspeed into a single pitot design. The AOA capability assists pilots on approaches and generates an alert signal for audible annunciation whenever nearing stall conditions. This pitot is available in heated and non-heated versions.
To guard against a power failure scenario, the EFIS-D6 may be optionally equipped with a Li-Ion Backup Battery ( £95.00 plus VAT). When power loss is detected, the instrument will automatically notify the pilot and immediately begin running on battery power for a minimum of 2 hours to enable a safe landing.
Items supplied with each EFIS-D6 include:

Not supplied: connector or pre-wired harness and back up battery. Available as "accessories".