MGL Stratomaster XTreme EFIS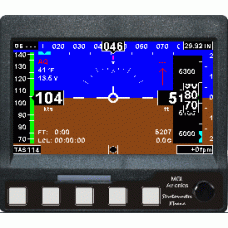 MGL avionics is a South African avionics development company with a wide range of flight systems from colour EFIS to digital engine instruments and more.


This low cost unit is based on a 4.2" sunlight readable, wide viewing angle, high resolution LCD display. It integrates SD card reader, function buttons, rotary control, display and a 65 channel high performance GPS system (aerial supplied).
Able to connect to existing engine sensors (or add additional sensors) via an optional MGL RDAC module mounted in the engine bay. Will also connect to AHRS like SP-7 and SP-5 and compass SP-6. Without these sensors the horizon will still work by using software based GPS track derived information and the displayed heading is the GPS track.
The XTreme is designed to fit a standard 3.1/8" round instrument hole. The body is located off-centre allowing the unit to replace instruments on the right side of a standard 6-pack configuration or any other location that currently occupies two instruments.
Due to the light weight and very low mounting depth no complicated mounting brackets or trays are needed. Power use is low and operation from much less than 12V to around 28V is fully supported without further items required.
The XTreme breaks new ground in current un-certified (experimental/ permit to fly) EFIS technology as it is a universal platform and can run many different MGL application programs, much like you can do on a home computer by installing different software. This means that functionality is not fixed to what you have at the time of purchase (like a Dynon EFIS). There will be upgrades to existing application programs, and it is likely that entirely new applications, that extend the area of functionality into new regions, are possible in the future for this remarkable, highly flexible unit.