Larger Glider Model Wing Dolly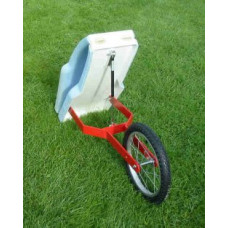 Fits most large two-seaters - e.g. Duo Discus, DG 1000, ASK 21. Especially designed to fit just inboard of the wing junction and made wide enough at 300mm at the rear to prevent the dolly twisting sideways on the wing when in use and causing damage to the wing lower surface. Fitted with a 400 newton gas strut. Two locking clips. It can be partially collapsed for easy storage.

Maintenance Alert:
Two instances have occurred of failure of the fitting at the top end of the gas strut (next to the black cylinder). The failure has been initiated by the fitting becoming unscrewed sufficient to allow it to flex on its shaft leading to fracture of the shaft.