AIR Glide Vario Display S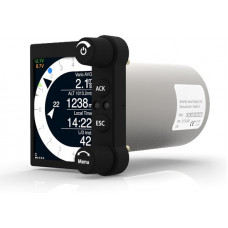 This is a perfect primary vario indicator. It features variometer, speed-to-fly, backup navigation, traffic awareness, voice alerts, and artificial horizon. This vario indicator functions with the Air Avionics Sensor Box.
The design integrates a big 65 mm display into a standard 57 mm panel cutout. The device is installed from the front of the panel. It can be easily installed into almost any existing cockpit.
Display
The very bright display depicts all relevant information clearly arranged and it is bigger than many other variometers. The display utilizes special anti-reflection technology making it perfectly readable in any lighting condition. Its readability is comparable to printed paper thus making a mechanical pointer obsolete. Also, without mechanical pointers, the displayed content can be made bigger.
Packed with features
Display S features a very easy to read variometer page. Additionally, it features speed-to-fly indication, backup-navigation, a dedicated traffic display page, and a sophisticated audio and voice messaging system that alerts the pilot in natural voice if there are possible dangers. An attitude and heading Reference System (AHRS) with true-airspeed indicator is included as well.
Navigation
The navigation function gives directions to airports or turnpoints from the integrated database. Own waypoint data can be imported and used as well.
A very accurate final glide computer calculates glide-path based on wind, aircraft-polar, bugs, and current total-energy.
The built in compass-sensor delivers precise true heading information. The 3D-compass is fully compensated. The navigation page is simple to use and perfect as a backup or for basic navigation.
Variometer and Wind-Indicator
Vario, netto-vario and wind are accurately computed in real-time with data from high tech sensors. A big black arrow-indicator shows the current vario value. Vertical air-mass movement is shown as a blue circle, average climb as a smaller green arrow. Four freely configurable Info-Boxes show selected values.
The wind-arrow depicts the accurate real-wind. The built-in three-dimensional compass always aligns the wind angle perfectly regardless of the roll-angle of the aircraft. This makes the wind arrow turn smoothly, even at high turn-rates.
Traffic and Alerts
AIR Glide Display S communicates with FLARM® compatible devices. Traffic information is shown on a special radar screen.
If a dangerous traffic situation is imminent, AIR Glide Display S warns in clear natural voice: for example: warning. glider, 12 o'clock, high.
Attitude and Airspeed Indicator
AIR Glide Display S contains an Attitude and Heading Reference System indicator. The horizon can be of help in challenging situations that may occur, for example, when there is unpredicted cloud development during wave-flights. The horizon is a state of the art, solid state precise instrument and compares favourably with expensive certified solutions. It contains a tamper-proof locking mechanism for competitions.
AIR Glide Display S also features an accurate airspeed indicator with TAS-indication as well as an accurate altimeter.
Voice Messages
A voice engine gives relevant information and alert messages in natural voice. Voice messages are only given in relevant situations and seamlessly enhance the pilot's workflow and do not distract. Up to two speakers can be connected to the vario, this makes future implementation of directional voice-alerts possible.
Through integrated sensors, AIR Glide Display S detects battery voltage, gear-state, flap-state, airbrake-state and many other parameters. If desired the voice system can actively warn of unwanted configurations.
IGC-Logger and USB
Flights from a connected AIR Glide sensor unit can be downloaded directly using a USB-Stick. A panel-mount USB-cable is included in delivery.
It is possible to read-out IGC-files, declare tasks, import user files, update system software or change settings with the USB-stick.
Specification
Dimensions
Space behind panel: ca. 115 mm (incl. cables)



Display
65 mm Colour-TFT Display




extremely high contrast, perfectly readable in sunlight



External Connections
switches for gear, flaps, airbrakes etc.




temperature probe




analog input (e.g. flap position indication)



Power
connectable batteries: 2 (intelligent power-management)




ca. 100mA at 12V (LCD-backlight fully active)



Audio
connectable speakers: 2




fully synthetic audio, voice output




mute pin, separate volume control



Interfaces
CANaerospace




RS232 NMEA (optional)




WiFi (optional)




USB (Host for USB-Stick, no Data)