AIR Glide Display L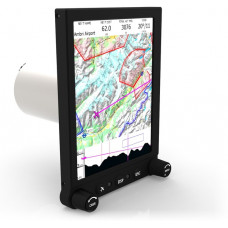 AIR Glide - Display L - Amazing Navigation, easy retrofit
The largest Display ("Size L") features an amazing, large 5.7" screen with conventional and touchscreen controls. Display L gives you comprehensive and stunningly easy to use navigation, task-management, backup variometer indication, and traffic display capabilities.
It has similar features to the Display M with the exception of the touchscreen.
Touchscreen - Navigation made easy
Display L and L are the first products based on a whole new codebase exclusively developed by AIR Avionics. Several years of hard work have created a flexible, extendible and easy-to-use platform that is used in AIR Glide and also in AIR Flight, our certified glass cockpit solution for powered aircraft. The software is developed with and based on aviation grade technologies resulting in unsurpassed reliability.
Many amazing new functions will be implemented over time during the product`s lifecycle