Oudie 2 Light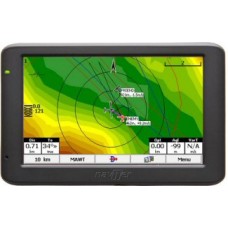 Just like the Oudie, used by over 5,000 glider pilots, but supplied so that you can load your own preferred navigation program (such as XC Soar or LX 8000). It is not "empty" but comes preinstalled with everything you will ever need for operation and this includes SeeYou Mobile trial version, worldwide vector maps as well as airport and airspace database. Everything is ready to go in trial mode out of the box.
Oudie 2 Lite is the perfect device for those who already have SeeYou Mobile. You just enter your existing SeeYou Mobile key (or purchase an upgrade if your current Naviter subscription has expired) and you are ready to go, just like the full-package Oudie 2.
Supplied with all required cables, as with the full-package Oudie 2, so that you have almost everything you need to ensure operation. No need to chase around looking for that cable that you hoped would be included!
And it has the new superbright display and all features are the same as the full-package Oudie 2 (see below) and be aware too that it has lower power consumption and is faster than some other devices
And it comes ready for you to activate See You Mobile should you decide after all to use that well proven program! Just purchase the licence, load the activation key and go fly !