Oudie 2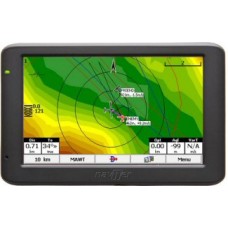 Oudie: the perfect size for use in a glider! And now with extra bright display!
Built-in GPS and built-in RS-232 serial port - so it can talk to soaring flight computers and flight recorders!
The Oudie's 5" (125mm approx) diagonal screen is a little larger than a PDA, but the overall footprint is smaller than the existing "high end" soaring navigation displays. Oudie ,with its built-in GPS, is both for pilots looking for a portable system in club and rental gliders, as well as pilots looking for a semi-portable mounted system wired into a glider's electrical system and connected to a soaring flight computer, either by the included data cable or Bluetooth.
Oudie is a Personal GliderPilot's Device (PGA) which runs SeeYou Mobile natively. What makes it different from any other device on the market is its ability to perform all of the most important tasks for glider pilots and right out of the box! It features:

Landscape and Portrait screen orientations




Integrated GPS for stand-alone operation




Serial communication cable




12 volt to 5 volt power converter




Bluetooth serial communication




Preinstalled SeeYou Mobile as standard (Worth £189)




Preinstalled worldwide Vector maps




Can be coupled to your Flarm and will display "Flarm radar"
UPGRADES: Older Oudies can be upgraded to the new bright display. You hand your current unit back and get a unit with the new display but without all the accessories included. Please call for details under 07850 950349 or 01869 245948.