LightSpeed Sierra ANR headset, twin cable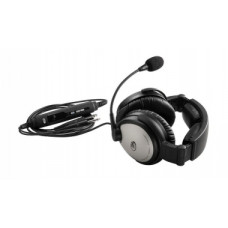 Winner of the 2012 'ANR on a budget field test' by Aviation Consumer, the LightSpeed Sierra delivers exceptional levels of comfort and quiet at a budget price.

Active noise reduction (ANR) and full Bluetooth audio connectivity bring top-of-the-line features to Sierra. Plush ear seals and sturdy fibre reinforced polymer construction add to Sierra's durability. Bluetooth input for audio devices and ComPriority™ enrich your flying experience. A reversible headband design allows microphone placement on the left or right. Sierra is everything you've been looking for in a budget-priced premium ANR headset.
NEW! Just in time for the spring flying season, Lightspeed haveadded full Bluetooth audio capability to the Sierra headset, making the entire Lightspeed headset line fully compatible with Bluetooth mobile phone, music, and audio alerts from aviation apps installed on Bluetooth-capable devices.
The Sierra already enabled pilots to use a mobile phone via Bluetooth. By adding the music functionality, Lightspeed are responding to the growing number of pilots that are accessing audio alerts from popular navigation apps, these alerts use the same Bluetooth protocol as music. Combined with Lightspeed's proprietary Flightlink recording app, the Sierra is packed with features often not found in much more expensive headsets.
Lightspeed like to think of Sierra as the BMW 2 of headsets. You get the comfort, performance, and features of a premium ANR headset at price that puts it within reach of most pilots — whether student or experienced.

Features:

• ANR — Active noise cancellation over a broad range of low frequency noise bring state of the art technology to Sierra.
• Comfort and Durability — At 16 ounces with plush ear seals and solidly designed ear cups, extended wearing is a breeze.
• Bluetooth Connectivity — Allows full wireless connection from Bluetooth devices.
• ComPriority — Receiving radio communications is a snap with ComPriority, which automatically decreases music player volume by 80 percent, lessening the chance of missing important interactions.
• Power Source and Connectors — Two AA batteries, Dual GA.
• Accessories — Carrying case, cord clip, foam wind screen.