LightSpeed Zulu PFX Dynamic ANR headset, GA Twin Plug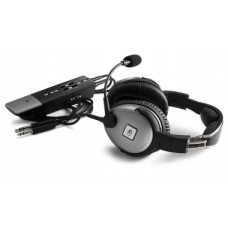 LightSpeed Zulu PFX GA Headset with twin plugs
With the Zulu PFX, Lightspeed Aviation has leveraged cutting edge technology, world-class engineers, and superior customer knowledge to produce one of the world's quietest premium ANR headset for aviators.

Lightspeed's proprietary PFX technology creates a uniquely personal flying experience by actively conforming to your ears, your environment, and your preferences.

Streaming Quiet™ dynamic ANR continuously adapts to your environment, extending the amount, consistency, and frequency range of noise cancellation.

Acoustic response mapping measures your unique auditory landscape, adapting the audio response to your ear shape and size for maximum noise attenuation, voice clarity, and music fidelity.

Personal preferences can be set using the enhanced capabilities in FlightLink, the proprietary App developed by Lightspeed.

Features

• Ultimate quiet and clarity — The proprietary innovations and advanced features in Zulu PFX work in concert to deliver astounding clarity and the world's quietest headset.

• Comfort — Based on the LightComfort™ design made famous by Zulu.2, Zulu PFX features soft ear seals, exceptional fit, and a head-friendly 400 grams (14 ounces).

• Durability — Rugged cables, constructed of silver-coated copper alloy wrapped around a Kevlar core, deliver extraordinary flexibility, strength, and audio quality.

• Bluetooth connectivity — Not only does Zulu PFX's full-function Bluetooth connectivity provide enhanced sound quality for voice, music or compatible audio devices, the FlightLink in-cockpit recording function in now Bluetooth compatible.

• Enhanced FlightLink capabilities — With Zulu PFX, FlightLink seamlessly captures cockpit communications for instant playback or later retrieval, and also allows users to set a variety of personal audio and operational preferences.

• Music fidelity — The Front Row Center™ feature is enhanced by advanced digital processing, creating remarkable, concert-class fidelity and a simulated 360-degree music experience.

• Auto Shutoff™ — In Zulu PFX, Lightspeed's proprietary Auto Shutoff feature is enhanced with increased sensitivity and user selected shut-off delay, saving even more battery life by automatically shutting down the headset power when not in use.

• Cell phone / music connection — The integrated control box auxiliary input for connecting a cell phone, music player or other audio device now has controls for bass, treble, and intercom priority, thanks to the enhanced capabilities in FlightLink.

• Stereo or mono — Match audio panel inputs with a quick switch to stereo or mono using the new, easy-to-access external switch.

• Firmware upgradability — Firmware updates are just a download away, giving Zulu PFX unlimited potential to evolve with new software innovations.

• Included — Custom molded carrying case, cellphone/music patch cord, cord clip, CPU mounting hook, four AA batteries, foam windscreen.