ICOM IC-A220T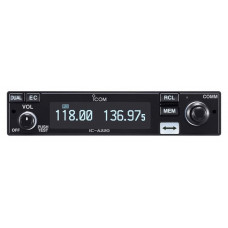 Icom IC-A220T Air Band Panel Mount Transceiver Now TSO Approved!
We are extremely excited by the news that the Icom IC-A220T air band panel mount transceiver is now TSO approved. Due to the mutual recognition system between the FAA and EASA, TSO approved products can be sold as ETSO product in European Union member states. This now means that we are in the process of bringing this new model into the UK market place. We hope that with the impending requirement for 8.33 kHz radios that this will provide you with many sales opportunities in the light aviation community.
The long awaited successor to the celebrated IC-A210 has the capability to work on both 8.33 kHz and 25 kHz channel spacing frequencies. It features a slim stylish design, a bright white display, enhanced squelch control and easy installation for pilots.
TSO is a performance standard for specified materials, parts and devices used on civil aircraft, issued by the Federal Aviation Administration (FAA). The IC-A220T radio is TSO certified for a Class 23 (CS-23A) fixed wing aircraft -Normal Category airplane 1494 registered in the UK as of 1st Jan 2016.