IMI Gliding, Towing Bar - very heavy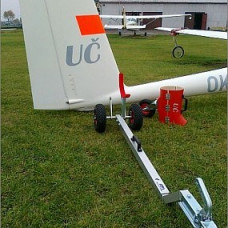 Customers bring new ideas to IMI products. The tow bar XXL was designed at the request of Bitterwasser pilots who have problems with the soft surface of the dried lake airfield. The standard combination of the tow bar for heavy gliders and common tail dolly is not practical in that situation and one needs to achieve lower wheel loading. The XXL tow bar is ideal for the combination of very heavy tailed gliders such as self-launcher open class and also for airfields with a rough surface.
The Tow bar XXL does not load the tail dolly as much as other types of tow bars, but it takes more space in a car or trailer while not in use. It is delivered with the Tail liftingadapter and new longer M12 axle for easy connection to the tail dolly. Price from approx £350.00 including VAT.
| | |
| --- | --- |
| Parameters: | Tow bar XXL |
| Length extended: | 205 cm |
| Length folded: | 135 cm |
| Weight with tail lifting adaptor: | 12 kg |
| Wheel diameter: | 27 cm |
TO ORDER: Call or email LX avionics with required specification and we will give you price and delivery time