PowerFlarm Core Pure - Flarm Tx & Rx only.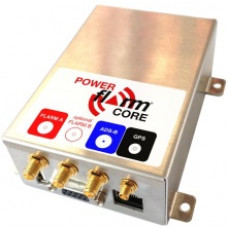 Small enough to fit behind the instrument panel, Power Flarm Core offers huge flexibility in installation.
PowerFLARM® CORE Pure is a rugged PowerFLARM® solution for fixed installation. PowerFLARM Core Pure is installed "hidden" behind the instrument panel or in the avionics compartment and passes PowerFLARM® traffic information to third party display systems. Many specialized display solutions are available, additionally nearly all leading Moving-Map Systems are capable of displaying PowerFLARM® Data.
To obtain full collision warning it is essential that the PowerFLARM® Core Pure is used with a suitable Flarm display; using a Moving Map system alone will not achieve this.
It is plug and play with any Butterfly and V3+ and V4+ displays.
All the Cores now have audio hardware at the same price as the previous versions.
If a customer intends to use audio out, a license for that is required. To purchase a license, simply tell us the serial number of the device and we will sell you a license file for this device and send it by email.
Optional features (please see PowerFlarm + ADS-B Accessories):
•Audio
•second FLARM radio channel
•IGC - Note that the IGC needs to be activated and then the unit calibrated and this can add 2 weeks to the process. Calibration charge is extra
•ENL
•GARMIN TIS interface
•EASA Minor Change
•Obstacle database Alps

Audio is connected to one pin of the DB-9 connector (pin 1). Customer or installer then connects this and ground to his speaker / headset / Intercom.
PowerFLARM® Core can operate two independent FLARM® antennas. In contrast to normal FLARM®-systems it features enhanced range and better coverage. So it has potential use in higher speed aircraft and also those with metal fuselages where a single antenna can blank the signal.
In the box:
•PowerFLARM Core Basic Device (EU-Version)
•FLARM®-Antenna
•GPS-Antenna
•Data-cable
•Documentation
Compatible with:
•External Display Systems
•Moving Map GPS Systems
•GARMIN® Moving Maps with TIS Interface
This is the version without ADS-B and transponder alerts.