TM250 Traffic Monitor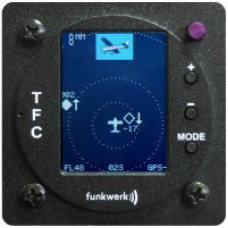 TM250 Traffic Monitor with Mode C, S, ADS-B and Flarm alert and minor change approval available.


The TM250 is an air traffic monitoring solution for light aircraft at a remarkably low price.
The built-in receiver decodes ADS-B transmissions from other aircraft. Their relative position is shown on the display together with their horizontal and vertical direction of movement. This allows an instantaneous capture of the traffic situation.
The traffic display TM250 by Funke Avionics GmbH is aimed at supporting air space surveillance for GA. It integratesMode C and S, ADS B, and FLARM ® detection in one single device for cockpit installation. The TM-250 features an internal GPS receiver and can output its data via another serial line to both Funke-avionic and other compatible transponders with ADS-B out capability.
ADS-B and Mode S
ADS B (Automatic Dependent Surveillance – Broadcast) means that aircraft with a Mode-S Transponder coupled to a GPS receiver emit their position data on the frequency 1,090 MHz. This data can be received by all airspace users up to a range of approx. 150 nm.
These ADS-B transmissions from other aircraft are decoded by the built-in Mode-S receiver in the TM250 with the display indicating their relative position as well as changes in the vertical plane. This allows the TM 250 to provide a very quick assessment of the traffic situation.
Today, the majority of Air Transport aeroplanes are equipped with ADS-B capable systems. Because GA still has a relatively low degree of ADS-B equipage, the TM 250 is designed also to detect aircraft with transponders that are not sending out ADS-B signals. This is achieved through evaluation of the field strength of the Mode C and S signals and, in this case, the proximity of such aircraft is signalled by the TM250 both graphically and acoustically. However, a representation of direction, altitude or position of these aircraft is not possible in this case. It should be further noted that Mode A/C signals are detected in a form that gives alert to the presence of a transmitting transponder nearby rather than any more precise warning.
The TM250 includes a built-in GPS receiver and can transmit its position data via an additional serial interface to an ADS-B capable Mode-S transponder (such as the TRT800A/H). This connection then produces a complete ADS-B system which can receive and transmit position data that will play a major role in minimising in-flight traffic conflicts.
Flarm:
The are up to some 25,000 FLARM® systems in use for collision avoidance, with the majority being in Europe. By the simple connection of a serial interface an external FLARM® receiver can be connected to the TM250 which then allows it to indicate the relative position and movement direction of these aircraft on the display of the TM250 in the same way as for ADS-B transmitting aircraft.
If the aircraft does not carry such a FLARM® receiver connected to the TM250, other gliders nearby that have a FLARM® transmitter will still be detected and indicated on the TM250 both graphically and acoustically. This is achieved through a non-directed, raw detection of the signal strength of a nearby FLARM® transmitter by the TM250. In this case however, it is not possible to indicate the direction, distance, altitude, or position of such targets. Also, no transmission to other gliders occurs.
Software updates can be installed easily via the built-in USB interface using a PC.
Includes TM250 unit, USB cable, GPS antenna. Requires connector (see accessories) and RF Antenna (see accessories).
In summary, the TM250 offers:
Compact traffic monitoring and warning system
Integrated GPS, Mode C and S and FLARM receivers
Reception of ADS-B position reports via Mode-S
Interface for external FLARM receiver
Complete ADS-B solution if used in combination with extended squitter-capable transponder (e.g. Funke Avionics TRT800A/H)
ADS-B traffic warning in the vicinity up to 16nm
Proximity warning for all Mode C and S equipped aircraft and FLARM (gliders)
Acoustic warning by internal buzzer and via external units (e.g., Funke Avionics ATR833)
5.3cm (2.1") colour display, 57mm standard housing
Low power consumption
Easy operation