Thiesen ERB-UL Anti Collision Light /w Flarm Interface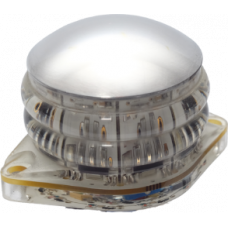 ERB-UL Electronic Rotating Beacon for Ultralight-Aeroplanes with FLARM-Interface. ERB-UL - our new development with Intelligent Synchronization and FLARM-Interface
With the newest generation LEDs, Thiesen developed a low height Electronic Rotating Beacon with a very bright brilliant red light and with a rotating characteristic. This device has low power consumption, too.
Like all Thiesen LED lights, the ERB-UL is totally water and seawater resistent. Since the electronic parts are completely integrated in the light, no black box or other electronic items are needed.
In addition to its Intelligent Synchronization, Thiesen integrated a FLARM-Interface in this ACL in order to increase awareness and safety.
Connecting to a Power-FLARM unit (not included), the light pulse rate of the ERB-UL will be increased if the FLARM-device identifies a collision course with another aircraft. In such a case the FLARM-interface increases the flash-rate of the connected ERB-UL from 40 light flashes / minute to 80 flashes. If the distance between the two aircraft decreases further the flash-rate will be increased to 160 flashes/ minute at the highest FLARM alert level.
You can see the various flash sequences controlled by the FLARM-interface in this video.
The ERB-UL is completely sealed in high-grade optical plastic. Since all electronic components are integrated, there is no additional location required for mounting other parts.
The extremely bright, red rotating light flash has a beacon angle of 360° and is visible at 30° below and above the horizontal plane.
For easy connection, the light is provided with a 1,5/0,25 mm² four-wire-cable. It can be installed on the fuselage using its flange footing and some additional silicone.
The set contains the mounting instructions and shrinking hose (heat shrink).
FLARM-Interface
As the world`s first, Thiesen integrated a FLARM-Interface in an anti-collision light for powered aircraft in order to increase conspicuity and safety. If a Power-FLARM unit (not supplied) is connected the Power-FLARM signal will increase the rate of light pulses and therefore make the aircraft more visible.
You can see the various flash sequences controlled by the FLARM-interface in this video.
Intelligent Synchronization
The integration of our well-proven Intelligent Synchronization enables several lights (if fitted) to be sequenced thus stabilising power consumption for the connected anti-collision lights and preventing battery and generator overload.
PLEASE REMEMBER: ALL THESE THIESEN PRODUCTS HAVE INCREDIBLY LOW POWER CONSUMPTION.
| | |
| --- | --- |
| LABEL | DESCRIPTION |
| Colour | Red |
| Operating Voltage | 10 - 17 Volts (DC), typically: 12.8 - 13.4 Volts (on-board power supply) |
| Wattage | 12.8 Watts (approx.) |
| Interface | FLARM and Intelligent Synchronisation |
| Diameter | 44 mm (approx.) |
| Height | 39 mm (approx.) |
| Flange to Flange | 61 mm (approx.) |
| Drill Hole | 4.5 mm |
| Weight | Approx. 85 grams including connecting cables |
| | |
| --- | --- |
| Warranty | 5,000 operating hours or max. 3 years from date of purchase |