Thiesen ELL 80is Landing Light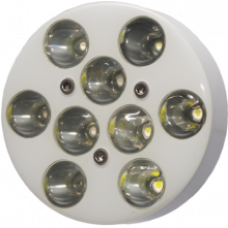 ELL80is - Electronic Landing Light - Intelligent Synchronization
To see and be seen
The use of the ELL80is – the Electronic Landing Light – facilitates a better perception for light-sport, experimental and ultra-light aircraft even during day time. The unique feature of the LED-based Landing Light is the integrated Anti-Collision Light (ACL). The ELL functions thus as a normal Landing Light as well as an Anti-Collision Light in the direction of the flight (i.e. towards the front). The aircraft is instantly visible during its flight.
The landing light ELL80is is the enhancement of our approved ELL80is and is ready for integration into our family of "Intelligent Synchronization".
By using new LEDs, the light output of the ELL80is is four times higher than the light output of its predecessor. Mounting and weight is similar to the predecessor, so a replacement will not cause any problems.
The ELL80is can be easily connected to a cable of minimum 1.5 mm² cross-section and is pre-wired with a 0.5 mm² highly flexible cord. It has a separate connector for the Landing Light and for the ACL. An instructions manual and the required shrink tubing are included in the package.
Thanks to its advanced construction the ELL is water and seawater resistant and, therefore, ideally suited for use in seaplanes. It has temperature controls and is corrosion and UV resistant.


Intelligent Synchronization
The integration of our well-proven Intelligent Synchronization allows a chronological sequence of power consumption for the connected anti-collision lights and prevents battery and generator from becoming overloaded.
PLEASE REMEMBER: ALL THIESSEN PRODUCTS HAVE INCREDIBLY LOW POWER CONSUMPTION

Mounting instruction
Technical Specifications
LABEL

DESCRIPTION

Operating voltage


10 - 17 Volts (DC), typically: 12.8 - 13.4 Volts (on-board power supply)



Wattage


Landing Light approx. 45 Watts, ACL approx. 20 Watts (Replaces a 140 Watts Halogen Lamp)



Brightness


> 75,000 Candela



Diameter


80 mm (approx.)





Installation depth



35 mm (approx.)

Weight


approx. 230 Grams including connecting cables



Warranty


5,000 operating hours or max. 3 years



Label Description Operating voltage 10 - 17 volts D. C., typically: 12.8 - 13.4 volts (on board power supply) Wattage Landing Light approx. 45 watts, ACL approx. 20 watts (Replaces a 140 Watts Halogen Lamp) Brightness > 75.000 Candela Diameter approx. 80 mm Installation depth approx. 35 mm Weight approx. 230 g with connecting cables Warranty 5,000 operating hours or max. 3 years