Thiesen ILC - Intelligent Lighting Circuit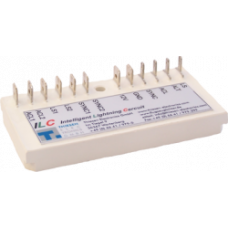 Intelligent Synchronization
With the new ILC, for the first time it is possible to control two of our landing lights intelligent and preserving the battery at the same time.
The electronics of the ILC is completely sealed so that it is protected from moisture and vibration. Both our ELL50 with 30 W input power, as well as our ELL60 can be driven with 60 Watt input power.
The special feature of ILC is that it manages the ACL function of the landing lights as well as the headlights in Alternate Mode with its intelligent synchronization.
With our ILC two landing lights can be controlled in three different modes:
ACL mode: Here the two headlights are operated in the ACL mode and thereby are synchronized so that the battery (generator) is relieved by the best possible way "Intelligent Synchronization".
Alt mode: In the "Alternate Mode" the two landing lights are alternating, ie alternately switched in 1 Hz rhythm.
CB mode: In the landing light mode, both landing lights are switched on.
Mounting instruction
Technical Specifications
Label Description Operating voltage 10 - 17 volts D. C., typically: 12.8 - 13.4 volts (on board power supply) Wattage approx. 20 watts Fuse 5 Ampère (fusible cut-out or automatic fuse) Dimensions 61 x 46 x 52 mm (L x W x H) Drill hole 4.5 mm Weight approx. 110 g incl. connecting cables Warranty 5,000 operating hours or max. 3 years