Thiesen TL-NG Electronic Tail Light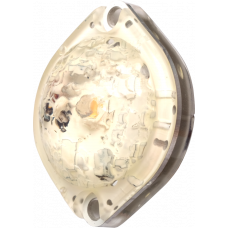 TL-NG – Electronic Tail Light of the 'New Generation'
with 'Intelligent Synchronization' and ACL-Function.
This tail light (TL) for aircraft (NON-TSO'd) is designed to be mounted on the tail unit itself or the rudder, provided a suitably shaped area is present (as is the case for the standard Grimes type incandescent tail light).
The new LED technology produces a very brilliant white light that uses only approx. 10% of the input power compared with conventional navigation lights. They are cast in a high-optical plastic making the TL-NG watertight, and resistant to vibration and other environmental influences. The heat produced by the TL is very low and thus will not reach a level that will cause damage. However, as with all Thiesen lights, the heat balance is controlled electronically .
The TL-NG is made of a high-optic, scratch-resistant plastic module. The entire control elements are integrated in the TL-NG whereby the light's dimensions determine the required space.
The Tail Light emits an extremely brilliant white light and can be switched to the more distinguishable Anti Collision flash Light mode if preferred. It has a defined illumination angle of 140° in compliance with GA regulations.
You can see the light in action in various modes in this video.
The Tail Light is provided with a high-grade Teflon-insulation pre-wiring to facilitate its easy connection to a 4-lead cable of two 0.25 mm² (AWG23) and two 0.75 mm² (AWG19) cross-section. Its flanges facilitate its fixture. In addition, it can be attached to the fuselage or tail fin using a silicone adhesive. An instruction manual and the shrink tubing (heat-shrink) required for the assembly are included in the Tail Light package.
PLEASE REMEMBER: ALL THIESSEN PRODUCTS HAVE INCREDIBLY LOW POWER CONSUMPTION
| | |
| --- | --- |
| LABEL | DESCRIPTION |
| Colour | Bright white light |
| Operating voltage | 10 - 17 Volts (DC), typically: 12.8 - 13.4 Volts (on-board power supply) |
| Wattage | 5 Watts (approx.), 1 Amp. peak current |
| Dimensions | 52.6 x 42 x 21.5 mm (L x W x H) |
| Drill hole | 4.5 mm |
| Weight | Approx. 28 Grams including cables |
| Warranty | 5,000 operating hours or max. 3 years from date of purchase |