Thiesen EPL - Electronic Position Light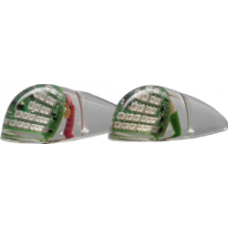 Position Lights for wingtips
The EPL comprises all parts inside a high-optic, scratch-resistant plastic module. The entire control element is integrated into the Anti-Collision Light (ACL) module where the ACL's dimensions determine the required space.
The EPL has a brilliant green and red light with a modulated beacon impulse for better perception. It has a defined angle of light of 110° in compliance with the regulations for general aviation.
The wingtip lights are prewired to allow easy connection to a 2-lead cable of minimum 0.4 mm² cross section. Flanges allow simple fixture. In addition, it can be affixed to the fuselage or rudders by means of a silicone adhesive. An instruction manual and the shrink tubing (heat-shrink) required for the assembly are included in the EPL package.
PLEASE REMEMBER: ALL THIESSEN PRODUCTS HAVE INCREDIBLY LOW POWER CONSUMPTION
Technical Specification
| | |
| --- | --- |
| LABEL | DESCRIPTION |
| Colour | Red and Green |
| Operating Voltage | 10 - 17 Volts (DC), typically: 12.8 - 13.4 Volts (on-board power supply) |
| Wattage | Each EPL 4.5 Watts (approx.) |
| Dimensions | 93 x 40 x 28 mm (L x B x H) |
| Weight | Approx. 78 Grams including connecting cables |
| Warranty | 5,000 operating hours or max. 3 years |