Thiesen ACL3is - Electronic Anti-Collision Light IS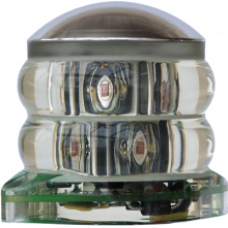 ACL3is - Electronic Anti-Collision Light IS
Intelligent Synchronization
ACL3is - Anti Collision Light for Fuselage or Tailplane Fin Assembling
The well-proven Thiesen ACL3 has been further developed and is now also able to be integrated into the new intelligent synchronization systems.
Like the ACL 1, the ACL3is is also made of a high-optic and scratch-resistant plastic module.
By use of the latest LED technology coupled with an improved manufacturing technique, we were able to reduce the production costs of our ACL3is. Moreover, this latest technology ensures more luminosity.
Compared to conventional ACLs the ACL3is emits approx. 100% more light while consuming the same power input.
The entire control element is integrated into the ACL module where the ACL's dimensions determine the required space.
The extremely bright, red sequencing light flash has a beacon angle of 360° and is visible at 30° below and above the horizontal plane.
The light is prewired to allow easy connection to a 3-lead cable of minimum 1.5 mm² cross section. Flanges allow simple fixture. In addition, it can be affixed to the fuselage or rudders by means of a silicone adhesive. An instruction manual and the shrink tubing (heat shrink) required for the assembly are included in the ACL package.
Intelligent Synchronization
The integration of our well-proven Intelligent Synchronization allows sequencing of power consumption for the connected anti-collision lights and prevents the battery and generator from becoming overloaded.
You can see the light in action here.
PLEASE REMEMBER: ALL THIESSEN PRODUCTS HAVE INCREDIBLY LOW POWER CONSUMPTION
Technical Specification
| | |
| --- | --- |
| LABEL | DESCRIPTION |
| Colour | White |
| Operating voltage | 10 - 17 Volts (DC), typically: 12.8 - 13.4 Volts (on-board power supply) |
| Wattage | 3 Watts (approx. at approx. 250 mA power consumption) |
| Dimensions | 60 x 44 x 28 mm (L x B x H) |
| Drill hole | 4.5 mm |
| Weight | Approx. 50 Grams including connecting cable |
| Warranty | 5,000 operating hours or max. 3 years |