uAvionix AV-30C (certified) EFIS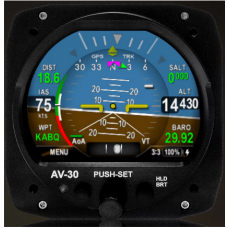 AV-30C Approved by FAA - Soon to be Certified for European Aircraft under CS-STAN.
Download a specification sheet here
Cutting-Edge Technology Without the Cutting
AV-30 fits in your existing 3" panel slot seamlessly. By mounting from behind, it preserves the "round dial" look, and eliminates the need for cutting or replacing your panel.
Transponder Control
Travel beyond borders with tailBeaconX, the globally accepted, Aireon enabled, 1090/ES ADS-B Transponder. AV-30 paired with tailBeaconX allows you to easily set your mode and squawk while enabling additional functionality to AV-30.
Probeless Angle of Attack
Avoid Stalls
The AV-30 alerts you visually and aurally if you approach a dangerous AoA. AoA is calculated by comparing the aircraft's pitch, flight path, and G-loading.
Autopilot Integration Coming 2020
Stay on Course
Coming in 2021, the APA-MINI Autopilot Adapter will interface heading bug to legacy STEC autopilots. Future autopilot adaptations are planned.