Winter 57mm Altimeter (Millibars), 0-20,000ft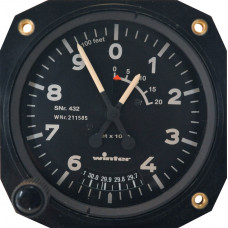 Gebr. Winter GmbH manufactures altimeters with metric displays or imperial. An EASA Form 1 is issued with each instrument. LX avionics stocks only imperial versions that typically have a conventional display with one turn per 1,000ft, a millibar sub-scale and a calibration up to 20,000ft. The instruments will operate higher but the accuracy is not certified above 20,000ft.
The 80 mm altimeter offered by LX avionics Ltd has a special new dial for optimum in-flight clarity and is illustrated here with the standard 57 mm instrument.
Mounting screws included

Supplied with EASA Form 1