LX Navigation Zeus 2.8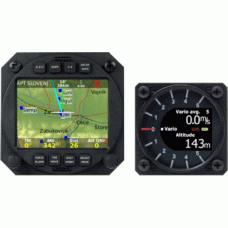 LX Zeus is the result of continuous development activities carried out by LX Navigation during the last decades. The complete SW package was developed by the LX Navigation team, no Freeware solution was used. The system consists of a main unit with display, push buttons, rotary switches and a vario unit which can be fitted into any 57 mm standard instrument panel cut out.

LX Zeus Configuration Options

Flarm (optionally ENL and IGC)
non IGC
AHRS
Features
Flight downloads and all data transfer via USB stick
3 TP files can be active at once
4 x 485 system bus ports - NO NEED FOR SPLITTER
Custom design of graphic page layout (no PC tool needed - directly on the Zeus)
2 GPS inputs to maximize gps security and in flight reliability
3D terrain display
Every push button supports 2 functions delivered by either a short or long press
AHRS (artificial horizon) offered as an integral solution
EOS Vario (colour vario 57 mm)
No need to remove the instrument for flight recorder calibration (remove only Colibri II for baro calibration)
Colibri II as a high level approved flight recorder, incorporated in the system*
Colibri II as a backup / emergency vario-nav system (in case of lack of battery power)
Simple factory conversion from landscape to portrait and vice versa
Plug and play connectors
Upgrade option of LX 7000 and LX 7007 to Zeus - more...
Software
Infinite number of NAV BOXES
Custom graphic layout
3 main screens (APT, TP, TSK)
Every main screen has a SUBPAGE (Airport information and glide path - terrain view)
Software (Linux based) developed entirely by LX Navigation
Data transfer via USB stick
3 TP (.cup) files can be active at once
Import TSK files (.cup)
World terrain maps preloaded
Update via USB stick - no password needed
Hardware
2 computers (embedded ARM Cortex and microcontroller)
4 x 485 system bus ports ( No need for splitter)
2 x CAN ports
2 x GPS ports (Colibri II and Flarm)
2 x Flarm display ports
1 x OAT port
1 x SD interface
1 x USB port A size
8 push buttons and 2 rotary switches
8GB storage memory
Accessories
Second seat unit
Remote stick
AHRS
Compass module
Voice module
Flarm RB, MB
Flarm color or led display
Flaps sensor
Display
Colour display
Resolution 240 x 320 px
High intensity adjustable backlight
High quality anti-glare
Extended temperature range
Size and Power Consumption
Size: 190 x 110 mm
Zeus power consumption around 500-550 mA at 12V
"A vario navigation system which can be fitted into a standard 80 mm cut out"
LX Zeus 2.8 uses a high quality 2.8 inch diagonal colour display with a resolution of 240x320 pixels. The size of the display has enabled the design of a unit which retains all the excellent features of the bigger LX Zeus but doesn't require an upgrade of the instrument panel. The operation and commands are identical to all other Zeus units comprising two rotary switches and eight push buttons. Operation is intuitive and the processor is very fast
Upgrades of other LX Navigation units beginning with LX 7000 are possible without significant change of cable sets. The vario unit used is the EOS.