LX Navigation LX10k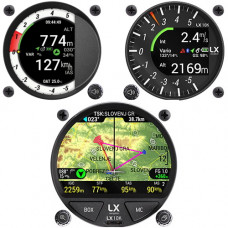 LX 10k is simple yet super smart.



LX 10k was designed as upgrade of older vario-navigation units and will fit into the standard cutouts. From ground up, we reinvented the graphic user interface and made the user experience simple yet sophisticated.


Equip your club gliders.


LX 10k is perfect for club gliders. The installation and use is simple and intuitive without compromising any features. With backup battery, IGC flight recorder, full navigation with 3D terrain you can not go wrong.
Ultimate System

The complete software package was developed by the team with root air navigation knowledge. The system consists of a 80 mm main unit with display, 2 push buttons, 2 rotary switches and a vario unit, which can be fitted into any 57 mm standard instrument panel cut-out.
Now available with the new digital display as an Option, in the LX Navigation Varios Accessories & Upgrades category.
LX10k OPTIONS (valid only if placed at time of order)
Upgrade analogue vario 57mm to Digital vario 57mm £ 110.00 (includes VAT)
Upgrade analogue vario 57mm to Digital vario 80mm £ 220.00 (includes VAT)
Upgrade analogue vario 80mm to Digital vario 80mm £ 220.00 (includes VAT)

Connect everything with CAN
Over 40 years of experience and development to make the best gliding instrument. To connect your devices with ease we use the CAN connection for power and data supply for all our devices.
The team of highly motivated glider pilots have developed the LX 10K. The device is easy to install and use as for the beginners and advanced, competition pilots. Understanding the device is the most important if you want to experience its full potential. And you will!
2 push buttons, 2 rotary push buttons


We designed the smart and intuitive button layout for the best user-experience in the cockpit.

Connectivity is the key


We strive to make our instruments easy to install and use. That is why we use CAN bus to connect our devices.

The biggest trans-flective display on the market


Trans-flective display technology
is the best to use in cockpit. And we did it. LX10K has the biggest display in 80 mm device on the market.


Simple control over the complex device
User experience is superb, as you move through pages with rotary knob and select your options with push function. Each page is designed to be readable and clear to understand.
Just in case, you have backup
It is always smart to have a backup. That's why LX10K has a backup battery and an IGC approved flight recorder built inside.
Choose between multiple LX accessories, such as AHRS, Flarm or Remote Control sticks, all designed to be simply connected via CAN and ready to use.


Size and weight
Height: 82 millimeters (3.23 inches)
Width: 82 millimeters (3.23 inches)
Depth: 52 millimeters (2.04 inches)
Weight: 300 grams (0.66 pound)
Power and battery
Power supply: 12 V DC
Power consumption: 150 mA @ 12 V
Battery: Built-in battery (3-5 hours)
What's in the box
LX 10K (80 mm)
LX vario indicator (57 mm)
Power supply cable
Oudie 6-pin to 8-pin cable
Oat probe
Speaker
GPS Antenna
WiFi & Bluetooth antenna
Micro SD card
Input interface
Baro-calibration chart
Connectivity
3 pressure inputs
RJ 45 CAN port
RJ12 User port
RJ12 Inputs port
RJ12 FLARM port
SMA connector for WiFi & Bluetooth
SMA connector for GPS
3,5 mm Audio jack
2,5 mm jack for OAT probe
AHRS, Colibri X, Flap Sensor, Flarm Eagle, LX Joy, LX MOP