Fenix Variometer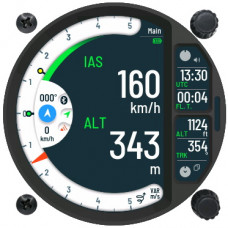 Fenix ... a new generation of vario-navigation system with speed to fly and more. It has the biggest, sunshine readable display area in 80mm instrument sizes. A single-screen device
Integrated 72 channel GPS receiver, IGC approved flight recorder with ENL recording, latest technology MEAS pressure sensors, WiFi & Bluetooth, backup battery and support for many 3rd party devices (Flarm, radios, ..) will fulfil any desire you might have.
Includes baro calibration sheet.
(Second seat system available shortly.)
STANDARD SIZE
Standard 80 mm size, making it easy to replace an older instrument.
PERSONALIZABLE
All customized navboxes. Set what you wish to see.
IGC APPROVED
Level 1 IGC approval with the 3072 bit signature. Made to last.
SIMULATOR
Download and try it on your Windows PC. Learn all functions before you go and fly with it.
MAIN SCREEN
Numerical page with user-defined navboxes.
THERMAL ASSISTANT
Get the most out of your thermal.
FLARM
See what is happening around you.
NAVIGATION PAGES
To nearest, airport, turn-point or task.
LOGBOOK
Logbook of all flights made
Technical data
DIMENSIONS
83mm x 83mm x 27mm (fits in standard 80 mm hole)
Weight: 220g
LOGGING
Level 1 IGC approved flight recorder.
Internal 16 GB solid-state memory
HUMAN INTERACTION
2 rotary knobs with push button
Biggest display area in 80 mm instruments size
POWER
Input range from 8 Vdc …. 17Vdc
Consumption: 130mA @ 13 Vdc
COMMUNICATION
2 wire Data ports
Bluetooth / Wifi connection
AUDIO
Internal beeper for warnings
Voice announcements (multi-language)