FenixS Variometer - Advanced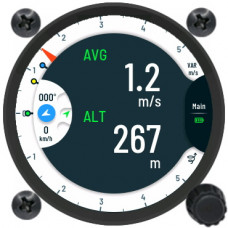 Vario system to fit in a 57mm panel hole.
FenixS ... a new generation of 57mm vario-navigation system with speed to fly and more. It has the biggest, sunshine readable display area in 57mm instrument sizes.

Simple to use unit which will make your flying experience nice and relaxed. All functions are developed in such a way to provide the pilot with the information that is needed, when it is needed them. Without an external speaker.

FenixS ... your buddy in thermalling.
The Advanced version - lets you unlock the instrument's full potential. And your own potential.
(Second seat system available shortly.)
STANDARD SIZE
Standard 57 mm size, easy to replace and older instrument.
PERSONALIZABLE
All customized navboxes. Set what you wish to see.
BASIC and ADVANCE
Two versions, choose what fits your needs. See the Comparison Table below for the differences between the Basic and Advanced models.
SIMULATOR
Download and try it on your Windows PC. Learn all functions before you go and fly with it.
MAIN SCREEN
Numerical page with user-defined navboxes
THERMAL ASSISTANT
Get the most out of your thermal, when you have the Advanced version.
FLARM
See what is happening around you. Available in the Advanced version. Requires external GPS device.
TAKEOFF
Navigation to take-off position. Requires external GPS device.
LOGBOOK
Logbook of all flights made
Technical data
DIMENSIONS
62mm x 65mm x 30mm (fits in standard 57mm hole)
Weight: 120g
COMMUNICATION
2 wire Data ports
HUMAN INTERACTION
One rotary knob with a push-button
Biggest display area in 57 mm instruments size
POWER
Input range from 8 Vdc …. 36Vdc
Consumption: 80mA @ 13 Vdc
Includes integrated backup battery
AUDIO
Internal beeper for warnings
Voice announcements (multi-language)
Simulator
Download and try it on your
Windows PC. Learn all functions
before you go and fly with it.
| | | |
| --- | --- | --- |
| Function | BASIC MODEL | ADVANCED MODEL |
| Vario Needle | yes | yes |
| Vario Sound | yes | yes |
| Settable navbox on main page | yes | yes |
| Wind Indicator | no | yes |
| Final Glide Calculator | no | yes - to take-of position |
| SC Tone and Arc | no | no |
| Setup Option | yes | yes |
| Volume Control | yes - directly on knob | yes - via quick menu |
| MC / Ballast / Bugs set | no | yes - via quick menu |
Speed to Fly Calculator
no
yes
Thermal Assistant
no
yes
needs external GPS Source
Flarm Radar + Warnings
no
yes
needs external GPS Source

TP Navigation
no
yes, to take-off position
needs external GPS source
APT Navigation
no
no
TSK Navigation
no
no
Logbook / Statistics
no
yes
GPS Info Page
no
yes
Init Screen
yes - elevation + QNH
yes - elevation + QNH

Voice Announcements
no
yes
Data Input
BT Module
BT Module +
external GPS / Flarm