Wing Wheel Standard Model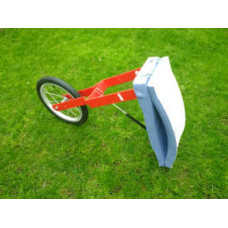 New Lower Price and Improvements



The standard model is suitable for most single seat gliders and some two-seaters. It is 200mm wide and is fitted with a 400 newton heavy duty gas strut and has plenty of adjustment for different wing heights. Two locking clips are now standard. The foam padding is covered with a showerproof durable fabric to ensure long life.
Maintenance Alert:
Two instances have occurred of failure of the fitting at the top end of the gas strut (next to the black cylinder). The failure has been initiated by the fitting becoming unscrewed sufficient to allow it to flex on its shaft leading to fracture of the shaft.
"The standard wing wheel will not fit gliders with very thick wings such as the Astir and B4m but we could make you one at an extra charge - please ask us"