A Flying Life by John Delafield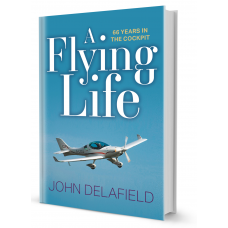 About the Author
John Delafield had a full career in the Royal Air Force (RAF) and retired in the rank of Air Commodore. Immediately after retirement, he rejoined the service in the RAF Volunteer Reserve (Training) branch, in the rank of Flying Officer, and continued to fly with the RAF for a further 17 years. With these two periods of commitment, he served over 52 years.
He was always passionate about flying and was a keen aeromodeller before he was able to start flying gliders. He flew his first solo in a T21B at Lasham in 1955 before joining the RAF through the RAF College at Cranwell some 6 months later. He makes it clear that he had no great ambitions for a full career in the RAF and just wanted to fly aeroplanes. He had a number of non-flying appointments during his 35-year RAF career but states that the best years were those which involved full-time flying.
John became well known in gliding circles and won many gliding competitions, which resulted in two entries in the Guinness Book of Records for winning the most National Gliding Championships. In this book, he describes in evocative detail several of his successful flights in gliders, which he interweaves with the story of his RAF flying and the later years when reluctantly he had to 'fly' a desk.

Published: December 2021

Pages: 450. Over 140 photographs, most in colour.