Yakolev Pilots Watch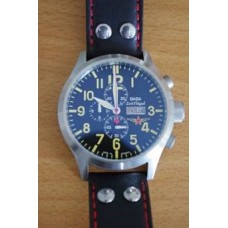 The Yakovlevs' pilot wristwatch is built in Germany and is easy to read and comes with elapsed time function.
Zeitflugel watches are hand crafted. This special edition watch is produced by Zeitflugel, on behalf of UK formation aerobatic team The Yakovlevs, and at its heart is a highly reliable Miyota quartz clock, encased in sapphire glass and 316L stainless steel. The watch is water resistant to a depth of 300 metres.
These watches are supplied in luxury boxes and come with a 3-year warranty.
Overall, a quality watch with an easy to read dial and affordable price and the perfect gift for an aviator: