Nano 4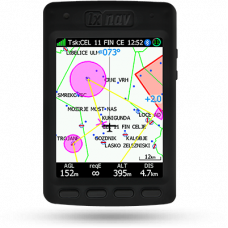 The Nano 4 flight recorder is flight recorder designed according to the highest level IGC specification with retina touch screen. It features an integrated 50-channel GPS receiver with built-in antenna. Using smart power management it allows up to 36 hours of operation and up to14 hours of operation with screen at full brightness. Integrated Bluetooth is used for easy data exchange with a PDA. Built-in Wi-Fi module. Flights are stored directly in IGC format to 4Gb solid state memory. The battery is charged when the flight recorder is connected to a computer or wall charger via Micro USB connector.
Main features
Easy handling. (Turn on and go)
Touch screen and seven buttons for simple and easy operation.
Integrated Wi-Fi and Bluetooth module compatible with iOS and Android systems.
Flight recorder according to high-level IGC specification.
2048 bit digital signature.
Advanced engine noise level recording. (also for JETengines)
Built-in high resolution variometer with adjustable volume.
Task and waypoint navigation (CUP compatible).
Airspace display (CUB compatible or from LXNAV database).
Airports from LXNAV database.
Wind indication
Final glide calculation
Up to 36 hours with advanced power management.
Up to 14 hours of operation with screen.
Unlimited storage for flights. (+28000 hours at 1sec interval)
Flights stored in IGC file format are downloadable throughUSB, Bluetooth or Wi-Fi.
Simple signalling LED's
Nanoconfig program for creating declaration and system settings (for PC and Android)
Hardware
3.5'' Sunlight readable screen with VGA (640*480)resolution
low power ARM processor
4 GBytes of solid state memory
7 buttons (1 power on, 2 zoom buttons and 4 screenbuttons)
50-channel GPS receiver
Plug and play USB interface (mass storage device),compatible with all operating systems (MS Win, Linux, MacOS)
Advanced engine noise level sensor. (also for JET engines)
High resolution variometer same technology as on V9/S80vario
Built-in vario speaker
High resolution pressure altitude sensor measures up to 30000m(100000ft)
Inertial platform 3 axis accelerometer and 3 axisgyroscope.
Integrated Li-Ion battery delivers you up to 36 hours of operation
Easy battery charger via USB port on your notebook, PC orwall charger
Robust ABS plastic housing
Input and output
USB interface (mass storage device)
Serial RS232 interface with NMEA output
Bluetooth module (Android and iOS)
Wi-Fi module
Size and weight
Outline dimension 69*105*17mm
Weight: ~145g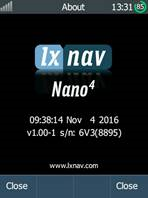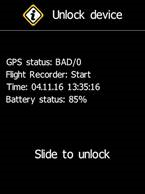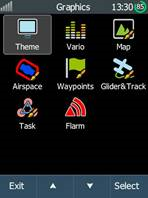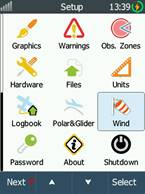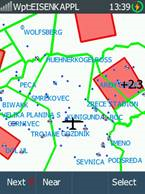 Accessories
Nano Power DC-DC converter input up to 24V converts to5V/1A
Connection cable to Oudie CC-NP-OUDIE
Connection cable to PDA/PNA (IPAQ38xx, HP31x) CC-NP-IPAQ
Connection cable to standard RS232 (DB9) CC-NP-232
Connection cable to RJ11 (IGC standard) CC-NP-IGC
Connection cable to Kobo CC-NP-KOBO