LX High Sensitivity Electret Boom Microphone 500mm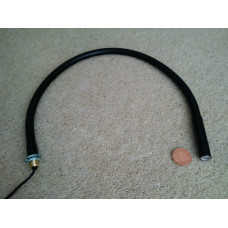 These High Sensitivity microphones have been developed by LX avionics especially for use in glider cockpits although they will have other applications. They are available with either a 400mm or 500mm boom. A mounting bracket is not included but they will fit previously installed brackets that have a 10mm mounting hole.
They have a directional amplified electret microphone that has some noise cancelling capability. Unlike the traditional dynamic mics, they are very much smaller and lighter and the pilot no longer has to have the microphone very close to his or her mouth for satisfactory operation. Instead the microphone head can be positioned some distance away which has many advantages in use. Our experience shows that it will work with all modern glider transceivers.
Mounting bracket not included.