Garmin GMA 350H Audio Panel for Helicopters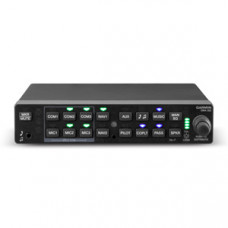 The first truly all-digital audio panel, the GMA 350H introduces a number of new technologies to the helicopter cockpit, including Telligence™ Voice Command, 3-D audio processing and advanced auto squelch.
Listen in Virtual 3-D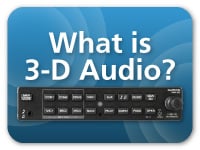 Advanced processing in the GMA 350H adjusts audio in the headset to mimic how the human ear normally hears and registers sounds in space. 3-D Audio makes it seem like different audio sources are coming from different directions, making it easier to distinguish one source from many. For example, COMM 1 will seem like it's coming from the left while COMM 2 will seem like it's coming from the right.
Operate Hands Free
With built-in Telligence Voice Command, the GMA 350H helps decrease pilot workload. Operate your audio panel without taking your hands off the controls. To switch between COMMs, just press a button and say "MIC 1" or "MIC 2."
Distribute Audio in the Cockpit
The GMA 350H makes in-flight entertainment easy. Permanently wire 2 dedicated input sources into the rear connectors, such as an XM receiver and an auxiliary music device. Plug your portable audio devices (such as MP3 players or mobile phones) into the 3.5 mm jack on the front. Control which headset positions have access to which audio sources with the "blue-select" mode so your passengers can enjoy music while you listen to radio communications or make private full-duplex telephone calls. The intuitive front panel layout features cursor control and volume indicator for easy operation.
Advanced Auto Squelch & Automatic Volume Control
Advanced Auto Squelch automatically adapts to a quiet or noisy cockpit without clipping words or cutting out in the middle of phrases. An internal microphone also senses ambient noise and adjusts the cockpit speaker volume level accordingly. The system analyzes ambient noise level and adjusts volumes for the headsets (when configured to do so at the time of installation).
Advanced Features
The GMA 350H offers 3 COMM support, as well as a flexible split COMM mode that lets the pilot and copilot to broadcast on separate COMMs. Split COMM support is available for positions 1/2, 1/3 or 2/3.
The system's green lighting is compatible with night-vision goggles. The automatic digital voice recorder continuously captures the last 2.5 minutes of audio for playback, so you can go back and listen if you miss an ATC call or frequency assignment.
Hands-free Convenience
The GMA 350Hc offers all the technology of the GMA 350H audio panel and adds the convenience of Bluetooth® wireless connectivity with your mobile and compatible portable devices, so you can distribute music or telephone audio through your aircraft audio panel wirelessly. And, with the VIRB® XE Aviation Bundle, Bluetooth works in place of a headset audio cable to overlay cockpit audio, such as radio and intercom, onto your video.