Garmin GMA 245R Audio Panel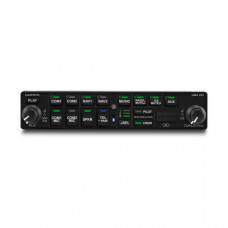 Advanced Audio Control for Experimental, Sport Aircraft
Bluetooth® connectivity enables easy access to phone calls and audio entertainment
Draws on Garmin top-end audio technology for "home theater" quality sound
3D Audio processing helps pilots "locate" inputs coming into their headsets
USB charging port provides power for smartphones, tablets, music players and more
Offers instant upgrade as a slide-in replacement for existing GMA 240 and GMA 340 equipped experimental aircraft
Featuring Bluetooth wireless connectivity, 3D Audio processing, clearance playback and impressive audio mixing and distribution, the GMA 245 audio panel represents the most advanced audio control technology Garmin has ever introduced for experimental amateur-built (EAB) and light sport aircraft (LSA) cockpits. Upgrading from the popular GMA 240 and GMA 340 audio panels in experimental aircraft has never been easier; simply slide in and fly away with the most modern audio processing capabilities available.
Seamless Integration with G3X Touch
Designed by our dedicated "Team X" engineering group specifically for the experimental market, GMA 245 offers an impressive array of features previously available only on high-end audio systems. Yet, it's priced to fit the budgets of most kitplane builders and sport pilots. It's also the perfect complement to our G3X Touch™ electronic flight display systems, enabling pilots to use their choice of conventional knobs and buttons on the audio panel faceplate — or onscreen selection with the G3X Touch displays — to optimize their cockpit communications options.
The Benefits of Bluetooth
Built-in Bluetooth connectivity with GMA 245 enables pilots to connect the unit with their smartphones or other compatible devices, so they can make and receive calls in the cockpit as well as stream audio entertainment through their mobile devices to pilot, copilot and passenger headsets. When incoming calls are received, visual and aural cues are provided — with onscreen notifications available on G3X Touch to let pilots know who's calling. Access to Bluetooth-enabled telephone or music inputs can easily be routed to up to 6 headset positions throughout the cabin. In addition, hard-wired sources, such as SiriusXM® satellite radio, DVD or CD players, can also be connected and distributed through GMA 245.
Awesome Audio Effects
Think high-end music equalizer and exceptional "home theater" quality sound. That's what the GMA 245 audio panel brings to inflight media and entertainment. The audio panel provides support for 2 dedicated stereo music inputs — plus additional Bluetooth wireless devices — which can be played through the headsets. Music features allow pilots to select enhanced bass boost levels as well as equalizer effects that include rock, classical and pop audio profiles.
Listen in Virtual 3-D
Sophisticated 3D Audio processing in GMA 245 adjusts audio in the headset to approximate how the human ear normally hears and registers sounds in space. This makes it seem as though different audio sources are coming from different directions around you, making it easier to distinguish 1 source from another — and helping you focus on the higher-priority calls coming into your headset. For example, COMM 1 will seem like it's coming from the left while COMM 2 will seem to be coming from the right.
Capture that Clearance
One of the most useful Garmin audio features ever invented, an automatic digital voice recorder on GMA 245 continuously captures the last 60 seconds of incoming active comm audio for instant playback on request. Any pilot who's ever missed an ATC call, frequency assignment or clearance amendment will appreciate the value of this handy "say again" function.
Let's Talk Auto Squelch
As a further enhancement to the cockpit audio experience, advanced Auto Squelch technology automatically adapts GMA 245 to a quiet or noisy environment without clipping words or cutting out during conversation. A high-performance digital signal processor constantly monitors ambient noise level and automatically adjusts the mic squelch level required to keep intercom conversation as comfortable and natural as possible — whether you're talking over engine noise in flight or quietly going through your engine pre-start checklist on the ground.

Some other audio panels are typically set to work best when the engine is operating and cockpit noise is at its highest, which, in turn, requires you to talk loudly on the ground prior to engine start for audio voice activation. GMA 245's advanced Auto Squelch technology eliminates these inconsistencies, allowing you to speak at normal levels, no matter what the ambient sound conditions may be.
Capability in Spades
At full capacity, the GMA 245 audio panel will support dual comm, dual nav and multiple aux receivers, totaling up to 7 radios in all. There's a 6-place intercom with 3 modes of isolation. And a split-comm mode lets the pilot and copilot broadcast on independent frequencies. Large LED-illuminated buttons on the panel unit provide intuitive audio and mode selection. Push-to-talk indication is provided by a flashing LED on the face of the unit. Wireless connectivity via Bluetooth for the Garmin VIRB® XE action camera (sold separately) gives pilots the option to overlay intercom audio and ATC communications onto the HD video soundtrack.
A Superior Audio Experience
Given such extensive audio control capabilities, GMA 245 clearly raises the industry standard for communications flexibility, hi-fi sound quality and wireless Bluetooth access in today's ever-more-connected experimental/light sport cockpits. It's the ultimate "nerve center" for pilots who want the absolute best from their inflight audio environment.


Available from LX avionics at Turweston Aerodrome.
Also ask about:

Remote-mount version of the Garmin GMA 245 audio panel for experimental amateur-built (EAB) and light sport aircraft (LSA), GMA 245R is designed specifically to interface with the latest G3X Touch Screen displays


Please call to discuss your bespoke requirements and pricing.
The Bluetooth® word mark and logos are owned by the Bluetooth SIG, Inc.