Trig TY92 8.33 Transceiver 16 watt - with second control head for rear seat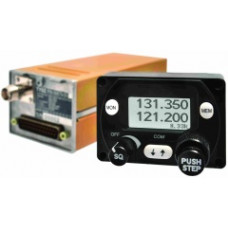 Trig TY92 8.33 Transceiver 16 watt - with second control head for rear seat
The new TY92 is a fully certified 25 kHz / 8.33kHz VHF radio, with a higher nominal power output of 16 watts, suitable for aircraft that have a 28 volt power supply.
The Trig TY92, with its higher power output of 16 watts, is suitable for longer range transmission and for aircraft that have a 28 volt power supply. Easily installed out almost anywhere in the cockpit, and not necessarily in the avionics stack, the TY92 makes a perfect back up radio in larger GA aircraft.
The Trig TY92 takes up minimal space and weight. The innovative use of a control head and separate radio hardware unit provides more installation options, especially when space is at a premium.
The control head can be conveniently mounted in a full 57mm round hole or even smaller compact mount. Fitting is straightforward, and once installed the depth of the radio control head is only 74mm. In practice this means that the Trig TY91 and TY92 control head can be located in an aircraft instrument panel where a'single box' radio will simply not fit.
Low Weight
Minimal Panel Space
Low Power Consumption
16 Watts Nominal Output
8.33 and 25 kHz channel spacing
Simple Installation
The perfect comms partner to our TT21 and TT22 Mode S (1090 ES ADS-B Out transponders).
The TY92 is TSO approved for fitting to European and FAA registered aircraft.