Yaesu FTA-550L 8.33, Hand Held, Airband Transceiver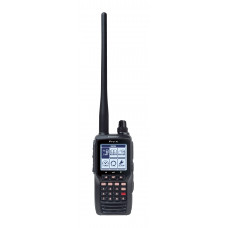 Air band Transceiver + VOR
In the box:
Li-Ion battery,
110V and 12VDC charger with cradle,
Alkaline battery tray,
Antenna,
Belt clip,
Headset adapter,
USB programming cable.
The YAESU FTA-550 is packed with features, yet very affordable. Boasting an oversize full dot matrix LCD display, the FTA-550 Air band Transceiver provides full communication on the Aircraft communications band and additionally provides VOR and ILS navigation features on the "NAV" band. The FTA-550 includes NOAA weather band monitoring and the capability of programming up to 200 memory channels with a quick and easy channel recall feature. The brand new easy-to-operate menu system is icon driven making it simple to navigate through all of the powerful features this transceiver has to offer. Additionally, the FTA-550 can easily be reprogrammed in minutes using the optional PC programming software and the supplied USB programming cable. It is CAA approved.
5 Watts TX Output Power (Airband: AM 5W P.E.P. typical, 1.5W carrier)

Huge 1.7" x 1.7" Full Dot Matrix display (160 x 160 Dots)

8.33 kHz Narrow Band Compatible

NOAA Weather Channel receive (where available)

NOAA Weather Alert (where available)

200 Memory Channels with 15 alphanumeric characters

Back-lit Keypad and display with dimmer

Water Protection -IPX5 Rating
Easy to operate Menu system
The FTA-550comes configured with an easy to operate icon driven menu system. The displays and menu settings are logically configured for a more intuitive user interface.
Huge dot-matrix Display (160 x 160 dots)
The FTA-550 features a huge 1.7" x 1.7" full dot-matrix LCD display with full back-light and dimmer. The high resolution display makes it easier to view all the great features the FTA-550 has to offer.
VOR Navigation Display
When the FTA-550 receives a VOR signal, the display will automatically switch to the NAV band screen which shows a CDI based on the received signal.
200 Memory channels with up to 15 alpha-numeric characters
The FTA-550 can store up to 200 memory channels for quick and easy retrieval. With the capability of using up to 15 alpha-numeric characters per name the FTA-550 allows for a better channel description.
CAA Approval
http://www.caa.co.uk/General-aviation/Aircraft-ownership-and-maintenance/8-33-kHz-radios/
Click on LA3 approved equipment.