ATR 833 Transceiver with LCD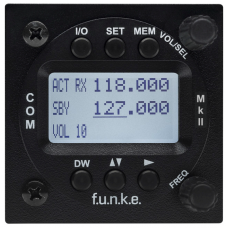 Developed from the very popular ATR 833 OLED, the ATR 833 LCD has all the features of the OLED version but is cheaper. Available with Remote control (ATR 833RT-LCD) for operation in tandem seated aircraft.
Certification: EASA 210.0193
Functions:
8.33kHz channel spacing (but supports 25kHz spacing)
4 line LCD for easy operation
Memorises frequencies with name codes
Approx. 100 channel memory with fast access
Dual frequency watch (listen only on second freq)
Jeppesen database (please note that the integrated Jeppesen database is optional and is not warranted for integrity and accuracy but is offered as additional help and not as a primary source of information)
Technical Data:
Frequency range: 118.000MHz

–

136.975 MHz
HF output power: approx. 6W
NF output power: approx. 4W
Dimensions: 57mm hole in panel; length 178mm (without connector)
Power consumption: approx 120mA standby; 1.8A during transmission
Power Supply: 10.5V – 14V
Supplied with connector; optional pre-wired harness available.