Garmin GTN 750Xi GPS NavCom, 010-02002-01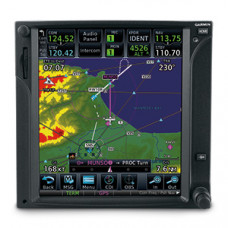 Install only*


Contact us for a bespoke quotation.


Tap into the Future of Avionics
Integrated GPS/Nav/Comm/MFD system
6.5" LCD touchscreen
Graphical flight planning
Displays charts, traffic, weather and more
Navigates LPV glidepath approaches
Packed full of powerful avionics, the GTN 750 is a fully integrated GPS/NAV/COMM solution. The 6-in.-tall system's intuitive touchscreen controls and large display give you unprecedented access to high-resolution terrain mapping, graphical flight planning, geo-referenced charting, traffic display, satellite weather and much more.
Touch and Go
With the GTN 750's revolutionary new touchscreen interface, you're rarely more than two taps away from all of the system's primary functions. Quickly pan across the map screen simply by swiping your finger across the 6.9-in. diagonal high-resolution TFT display. Or enter waypoint data with the full onscreen keypad. It's even designed with raised grips in the bezel and a shelf across the lower edge of the display that serve as gripping points in both smoother and turbulent flight conditions. Traditional concentric knobs are also available for those who are used to that style of data input.
Navigate with Ease
The GTN family makes it easier than ever to get where you're going. Graphical flight planning capabilities allow you to preview your entire route on the map screen and easily enter new waypoints or modify existing ones. The system even lets you load Victor and jet airways. A handy "rubber band" feature lets you grab any leg of your flight plan route and move it to accommodate a deviation or ATC amendment to your flight plan. The GTN 750 also allows you to enter your most recently visited or nearest airports as waypoints and "Direct To" destinations. Optional Jeppesen®-style geo-referenced ChartView™, provides you with approach plates and procedures.
In IFR conditions, you now have more landing options, as well. The SBAS/WAAS-certified, 15-channel GPS receiver generates five position updates per second, enabling you to fly GPS-guided LPV glidepath instrument approaches down to as low as 200 ft. The system also includes a complete package of VHF navigation capabilities, with a 200-channel VOR/ILS with localizer and glideslope. When you load procedures, the GTN will preload NAV frequencies for you to manually switch to and can auto select the VHF NAV source for ILS approaches. In addition, precise course deviation and roll steering outputs can be coupled to select autopilots so that IFR flight procedures may be flown automatically. This includes all ARINC 424 leg types, except RF legs. (For example, when coupled with a G500/G600 Flight Display, the aircraft can fly fully coupled missed approaches, including heading legs.)
Make Communication a Breeze
A fully certified, 2,280-channel VHF communications transceiver provides a standard 10 W (or optional 16 W) of power output. The system is pilot-selectable to both 25 kHz and 8.33 kHz channel spacing. With the GTN 750, you can set your standby Com frequency simply by touching the onscreen number pad. Another touch of the screen flip-flops your active and standby frequencies. Recent and favorite frequencies are also a breeze to access. For added safety, holding down the volume knob will automatically dial in the emergency frequency.
See More than Ever Before
With a wealth of multifunction display capabilities, the GTN 750 brings enhanced situational awareness to your cockpit. With high-resolution terrain mapping – including topography features, cities, airports, terminal areas, SUAs and more – and optional Class B TAWS alerting, you'll find your way around the airspace safely and with ease.
Couple the system with a GDL™ 69 series datalink receiver, you can overlay NEXRAD radar right onto your moving map display and receive satellite music. Or add a Garmin traffic system and pinpoint other aircraft in your vicinity. The GTN 750 can even control the GMA 35 remote audio panel with clearance recorder, advanced auto squelch and more. Use the GMA 35 and a GTX™ 32/33 remote transponder to save up to 3 in. of panel space versus a typical GNS 430/530 install.
Stay Up to Date
The GTN 750 features a front-loading SD™ card reader, so you can easily update your databases. Manage your databases directly through www.flyGarmin.com and purchase affordable updates as soon as they're available.
*Installation must be carried out by our partner Part-145 installer, Akki Aviation Services