Trig TN72 GPS Receiver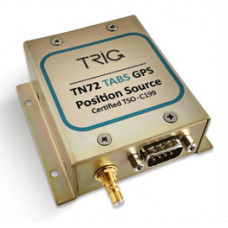 Flying in busy skies, or in remote areas means that many pilots want to exploit the visibility and safety that ADS-B Out provides. ADS-B In traffic receivers, used in general aviation today, allow a pilot to view ADS-B Out equipped aircraft on a cockpit display.
The TN72 meets the position requirements of FAR 91.227 and can be used by Light Sport and Experimental aircraft in the U.S. to meet the 2020 ADS-B Out mandate. The TN72 is a highly affordable solution, used in combination with a Trig transponder. The TN72 is also well suited to use in gliders, as an affordable way to become ADS-B Out equipped. In the U.S. certified gliders with an electrical system will require a TSO C-145 GPS to be used, our TN70.
Wherever ADS-B technology is used it is worth highlighting that most ADS-B In traffic receivers will only display aircraft traffic that generate a non-zero quality indicator, (also referred to as SIL 1). In contrast a zero quality indicator (referred to as SIL 0) ADS-B Out, is ignored and not displayed on a traffic display – rendering an aircraft invisible.
Using lower grade SIL 0 equipment your aircraft will be hidden from view. But you don't have to compromise your electronic visibility when you fly with Trig. A TN72 will be visible across all ADS-B In traffic platforms. By installing a TN72 with your Trig transponder you will have a certified collision avoidance safety benefit – that's easy to install and proven to work with Trig transponders.
The TN72 is shipping – please note in Europe however that EASA approval for TSO C199 TABS is pending. Shipping in Europe will follow as soon as this approval is secured.
Product features
Interfaces with Trig transponder to provide ADS-B Out
GPS receiver – certified to TSO-C199 (TABS)
Meets position requirements of FAR 91.227 for Experimental and Light Sport – 2020 compliant in U.S.
Enhances visibility and safety
Collision avoidance (uses non zero quality indicators)
Enables live tracking of aircraft
Triggers traffic information services (TIS-B only available in U.S.)
Low cost and light weight
Global Trig warranty
The TN72 is an affordable and practical GPS position source used to turn your Trig transponder into an ADS-B device. It meets the FAA's TSO-C199 certification standard for a Traffic Awareness Beacon System, known as TABS for short. Trig's TN72 supports current and future air to air collision avoidance and situational awareness applications. This enhanced visibility can be useful for tracking club aircraft in real time, improving safety in the circuit and reducing the risk of air-to-air collision.
In countries where ADS-B airspace is mandated, operation in ADS-B airspace by certified aircraft usually requires full compliance with TSO-C145 GPS technology, our TN70.
In North America the TN72 is well suited to experimental, light-sport, soaring or glider pilots, with a Trig transponder a full traffic service will be triggered (an ADS-B traffic receiver is required).
In Europe where no ADS-B mandate exists for light and general aviation the TN72 is a great way to become ADS-B equipped in VFR airspace enhancing flight safety.
Trig are leaders in ADS-B (Automatic Dependant Surveillance Broadcast) technology, we were the first company in the world to meet FAA TSO C-166b the latest standard for ADS-B transponders. Every Trig transponder is Mode S, but also ADS-B capable. Once installed ADS-B equipment transmits your aircraft's precise location directly to other ADS-B equipped aircraft, improving your electronic visibility and safety.