ART 27 C Premium Portable Avionics System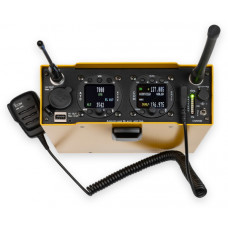 The ART 27C is a market leading portable avionics system that is optimised for use by balloonists.
The example shown is equipped with a KRT 2 radio and a TRX transponder but the box can equally be fitted out with Funke devices.
This state-of-the-art portable communications station has been especially designed for use in balloons, but will fulfil its function in any application where a VHF airband Radio and/or a Transponder is needed.
The station has a modular design so that it can adapt to the needs of every customer. Each functional module can be installed at the time of ordering or later.
The base of the portable station is a reinforced aluminum case, designed to withstand a hard life. The design of the top protects equipment and their controls, preventing them from damage in an unforeseen event. Inside there is a high capacity lithium battery and a protection & control circuit for a long, safe and reliable operation. A charger is built in to the box.
A cigarette connector with 14V output, a LED colour voltmeter, the external power input and the On/Off/Charge switch complete the box that can be configured with the following parts:
VHF Radio: there are 2 possibilities: Get the TQ Avionics KRT2-S if you want a state of the art lightweight and fully featured (6W, dual watch, double channel spacing, etc... ) certified EASA Form1 COM radio. Get the Funke ATR833S if you want a reliable certified EASA Form1 COM radio with similar features to the KRT but as a more economic option with excellent readability under direct sunlight.
Transponder: There are 2 possibilities: Get the TQ Avionics KTX2-S if you want the best priced, lightweight and energy saving all mode transponder. Get the Funke TRT800H-LCD if you want an especially rugged set with better readability under direct sunlight.
GPS: HI-206 Non TSO GPS receiver is used to supply data to the transponder to transmit Mode-S + uncertified ADS-B out and is fitted as standard.
Specifications
• Model: ART-27C
• Weight (Maximum configuration): 3,3Kg
• Dimensions: 217x80x265mm
• Charging time: < 7h
• Mains Input: 100 to 240V AC, 50-60Hz
• Output cigarette plug : 14V, 2A max
• Battery: Li-Io, 135Wh with BMC
• Operating temp range: -15ºC to +55ºC

Included accessories
• All configurations: Battery, charger, charger AC cord, carry bag.
• With VHF radio: VHF rubber antenna, mic/speaker.
• With Transponder: Transponder rubber antenna, coaxial extension cable.

ALL SYSTEMS ARE MADE TO ORDER TO MEET CUSTOMER SPECIFICATIONS so please allow a 10 days for delivery.

Ordering options:

KRT2-S with TRT800H LCD Order code 61320 3,982,47€ plus VAT (approx. £4300.00 incl VAT plus delivery)
KRT2-S with KTX2-S Order Code 61328 3.894,60€ plus VAT (approx. £4249.00 incl VAT plus delivery)
ATR833S with KTX2-S Order Code 61329 3.751,82€ plus VAT (approx. £4093.00 incl VAT plus delivery)
ATR833S with TRT 800H-LCD Order Code 61325 3.840,24€ plus VAT (approx. £4189.00 incl VAT plus delivery)