TRT 800A OLED Mode S Transponder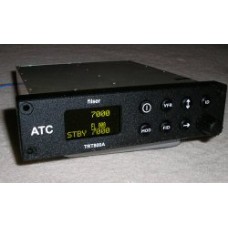 Selected as the transponder for the Royal Air Force Tucano fleet.
Features:
Class1 Level2es




Integral Alticoder (25ft increments)




Brilliant display




Pre-wired connector included




EASA Approval number EASA.21O.268




ADS-B ready



The TRT 800A OLED is a development of the well known TRT series and now features an ultra bright display (OLED) that can be seen easily from almost any angle. Unlike the other TRT models, it fits the same panel slot as the KT 76 A series (but is much shorter and lighter) and installation is very straightforward. It produces 126 watts at the antenna and required power supply is 12 - 28 V DC.

Size is 170 mm (approx) behind panel plus 45 mm for connector. It is 140mm wide and 40 mm in height and weighs only 850 gms plus connector and cabling.
It is installed into the panel from the pilot side and, although a cradle is not required, you can either use the existing cradle by fixing the supplied brackets to each side of it or you can attach the brackets to the rear of panel.
TRT 800A-OLEDSS supplied with pre-wired power connector with integral A/C address memory and with interface (TRT 800EMSS) for ADS-B Out.